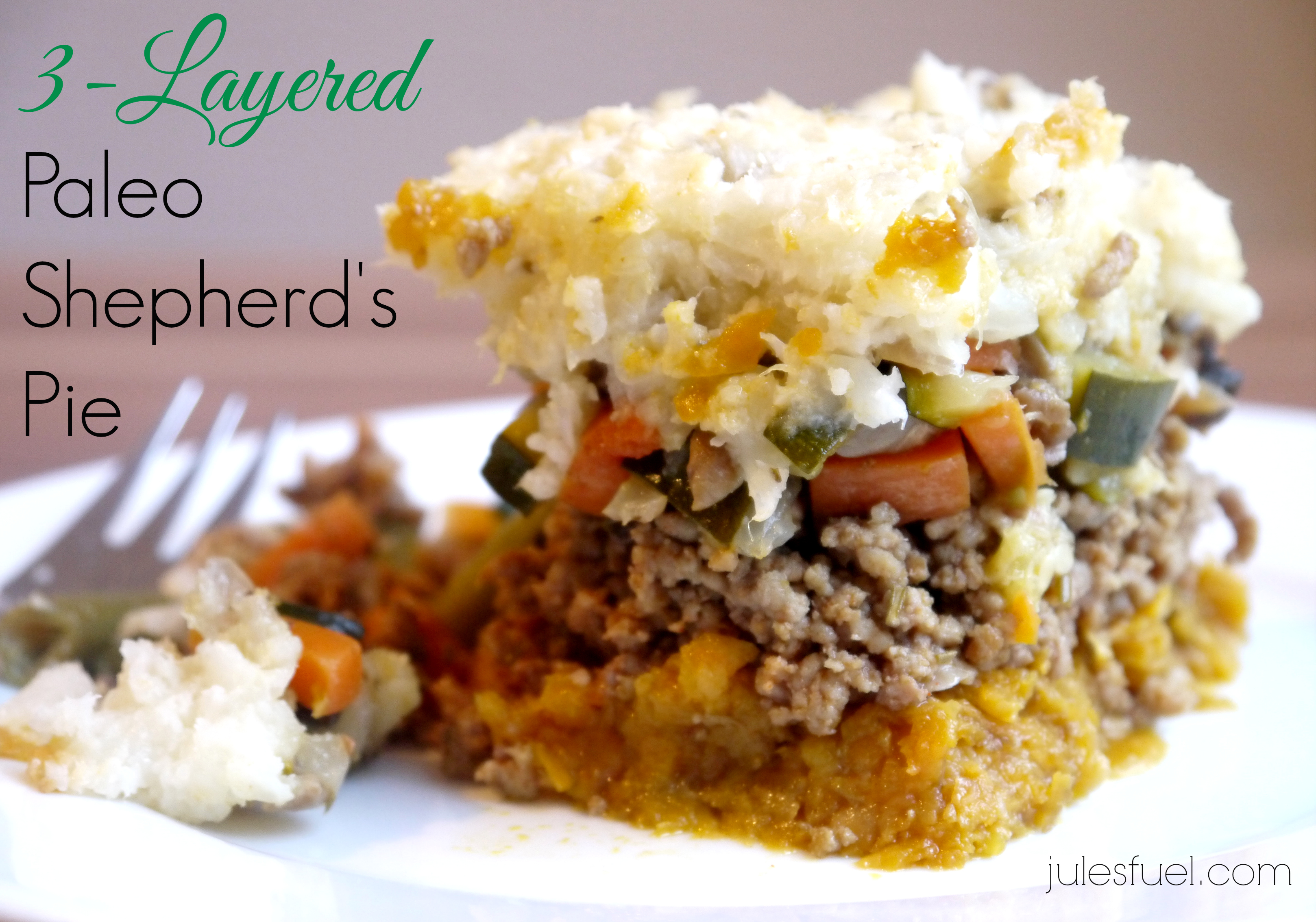 It's 5 AM, and I'm STARVING.
I roll over to my left side and try to quiet the hunger pangs that have been building for the last 30 minutes.
I can just picture my baby girl inside screaming, "Feed me, mama!!," so I finally get out of bed.
*Sigh*… what to eat? Having had a handful of these nights (er, early mornings) throughout my pregnancy, I always dread them because I'm left searching for something substantial to eat. It takes time. And it's difficult to stay quiet while the hubby sleeps.
Wait a minute…YESSSSSS! 
A smile comes over my face as I realize that I actually have substantial food to eat. Thankfully, the day prior, I   made a massive dish of 3-Layered Shepherd's Pie. Best. decision. ever!!
A few years ago, I made a similar version with just two layers, but decided to add an additional bottom layer of sweet potatoes for added nutrients and a bit of a sweet finish this time around. Home run! Fist pumping my way to the kitchen, I helped myself to a serving, and headed back – contentedly full – to bed.
Throughout the following days, I managed to eat this dish for breakfast, lunch, and dinner, and plan to make a huge batch when baby is here for an easy meal. Enjoy, friends!
Now, that's funny. I'm suddenly getting hungry again… 🙂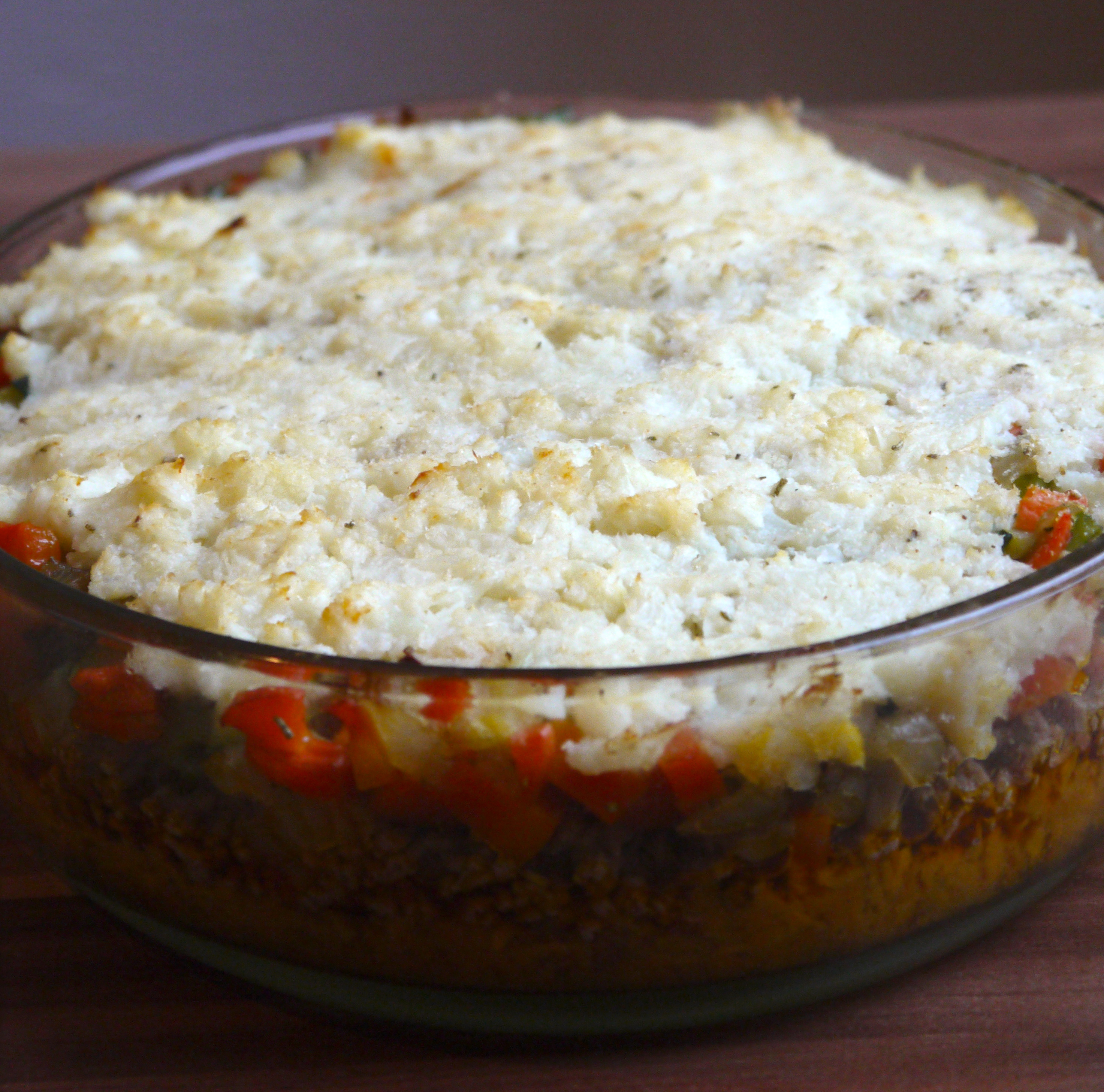 3-Layered Paleo Shepherd's Pie
Ingredients
Top Layer
2 large heads of cauliflower
1/2 tsp paprika (I prefer sweet)
1 tbsp ghee or extra virgin olive oil
1/4 c chicken broth
2 cloves garlic, minced
Sea salt & pepper to taste
Middle Layer
2 pounds of grass-fed beef
1 medium onion
2 large carrots
1 large zucchini
1 tbsp ghee or extra virgin olive oil
1/2 c chicken broth
2 cloves garlic
1/2 tsp thyme
1 tsp rosemary
Sea salt & pepper to taste
Bottom Layer
2 large sweet potatoes, grated
2 tbsp ghee or extra virgin olive oil
Sea salt to taste
Instructions
Preheat the oven to 350 degrees.
Bottom layer:  Grate the sweet potatoes (or use your food processor to shred). In a large pan, heat the ghee or olive oil and sauté the grated sweet potatoes until soft. This takes about 15 – 20 minutes, depending on the size of pan. Season with sea salt.
Middle layer: Simultaneously, in a separate large pan, heat ghee or olive oil and sauté onions for 5 minutes. Add finely diced carrots and zucchini, and cook for another 5 minutes. Add the ground beef to the mixture, along with garlic, thyme, rosemary, salt and pepper. Cook meat thoroughly, and add chicken broth to the pan and cook down the broth for several minutes.
Top layer: Simultaneously, in a large pot, add enough water to boil the cauliflower in, and bring to a boil (without adding cauliflower). Rinse and chop cauliflower into chunks, and add to the boiling water. Boil for about 10 minutes, until slightly soft to a fork. Drain the water out, and then use a hand blender to blend cauliflower until smooth. Blend in ghee, garlic, chicken broth, paprika, sea salt and pepper.
In a large glass dish, evenly spread the grated sweet potatoes on the bottom. Then, evenly spread the middle layer on top, finishing with evenly spreading the top layer.
Place the glass dish in the oven, and bake for about 30 minutes.