Whoop whoop! This post was shared on Mark's Daily Apple's Link Love on April 14, 2013! 
:::
One year and eight months ago, I was honeymooning on the beaches of Aruba, basking in the sun, adventure, and Caribbean waters with my new hubby.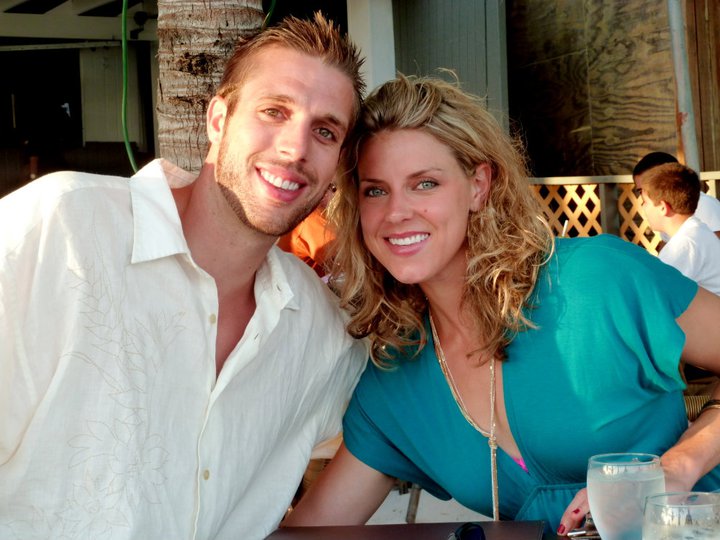 Our favorite part?
The most MOUTH-WATERING food. Ever. Every day.
And indulge, we did.
When you think of Honeymoon food, you might think of foods like:
Fresh breads (fluffy croissants with jam, anyone?) and pastries in the morning
Delicatessen sandwiches with crunchy kettle chips + strawberry daqueries at lunch
Fresh seafood with pasta and a creamy brownie chocolate cheesecake + whipped cream on top (with Happy Anniversary written all over it)
Shockingly, we did not eat 95% of the foods I just listed.
So, you're thinking we ate, what, cardboard? Twigs and berries?
Think bacon and vegetable omelets with fruit salad.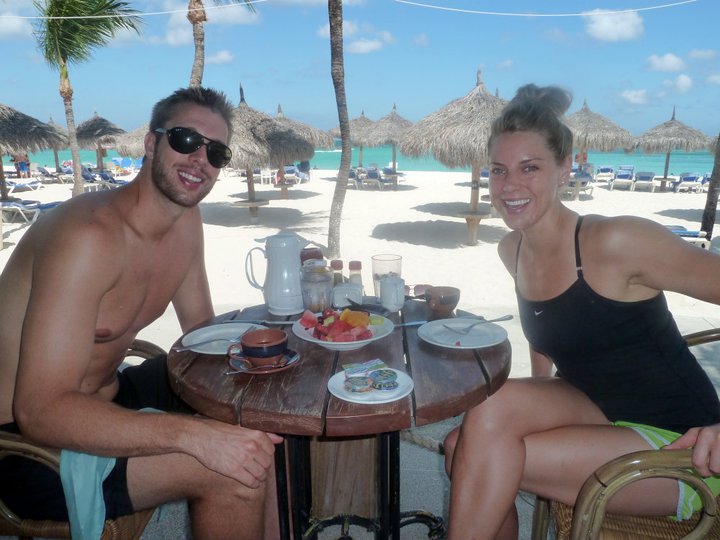 Picture baked grouper caught that morning on a bed of greens with melted goat cheese.
Snacks of carrots, peppers or cucumbers rolled in lunch meats, macadamia nuts, and berries.
Visualize a coconut milk Caribbean seafood pot with a glass of bubbly.
And maybe a chocolatey dessert few and far between.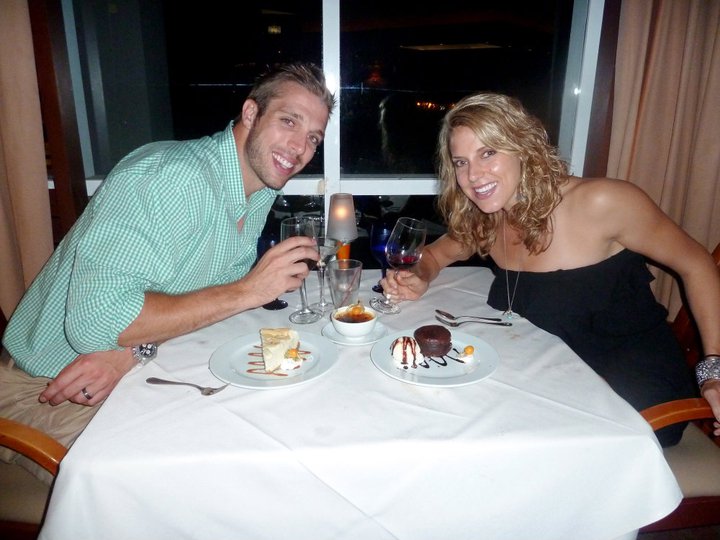 Who's idea was it to cut out the processed foods – the melt-in-your-mouth breads, milk and cereal, the succulent pastas… on our HONEYMOON!?
My 7'0" husband and 6-year professional basketball player, Kyle Visser.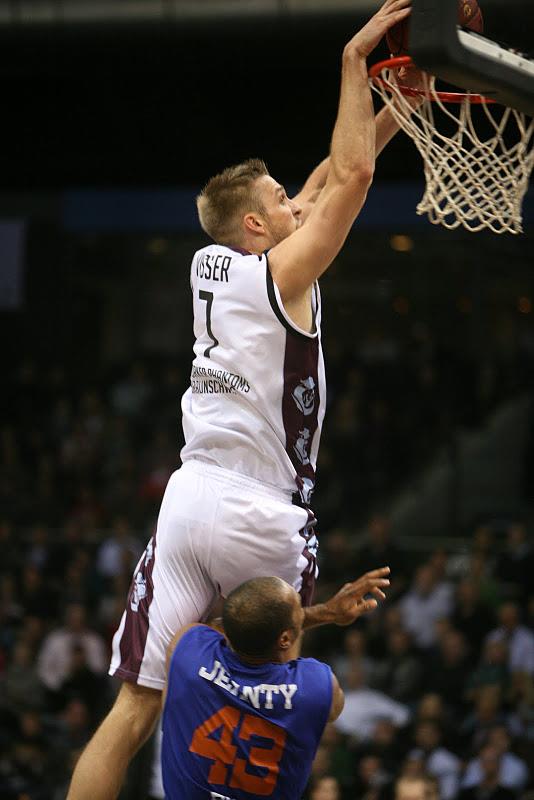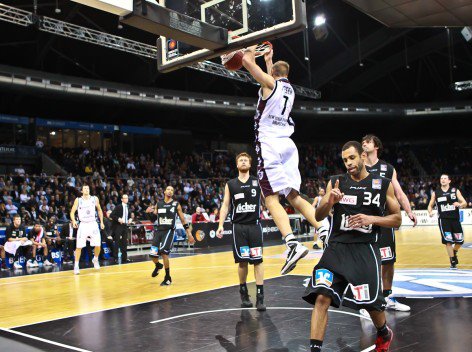 Okay, I might have had something to do with it behind the scenes, but by no means did I force him into changing his diet, let alone on our honeymoon!
I'll get the bragging over with quick, but just so you know a bit more about him in terms of his athletic accomplishments as an athlete…
His senior year, he was 7th in the ACC in scoring at 17.3 ppg, and 2nd in the league in field goal percentage (.593). He was the only player in the entire ACC to rank in the top 10 in scoring, rebounding, field goal percentage, and blocks.
He tried out for almost 20 NBA teams post-college, and joined the Washington Wizards and Charlotte Bobcats for two different NBA Summer League camps.
He has played 5 seasons as the starting center in the top German professional league, the Beko BBL, where he averaged about 11 points 5 rebounds per game.
This past summer, Kyle signed with a team in the top Italian professional league, but suffered a torn labrum in his shoulder just three weeks before leaving for the season in August 2012.
He underwent surgery, which can take anywhere from 4 months to 18 months to recover (depending on severity and sport), and was blessed to recover in just 4 months by December 2012 (pretty sure it was the nourishing food and rehab!).
In late December, he got picked up by a Serbian team in the Adriatic League, where we currently reside right now!
::
My intention in sharing Kyle's following perspective on eating whole foods, albeit sans gluten and dairy, is to show you that not only is it possible for non-athletes; it is possible and even beneficial to eat this way – on and off the court or field – for dozens of reasons.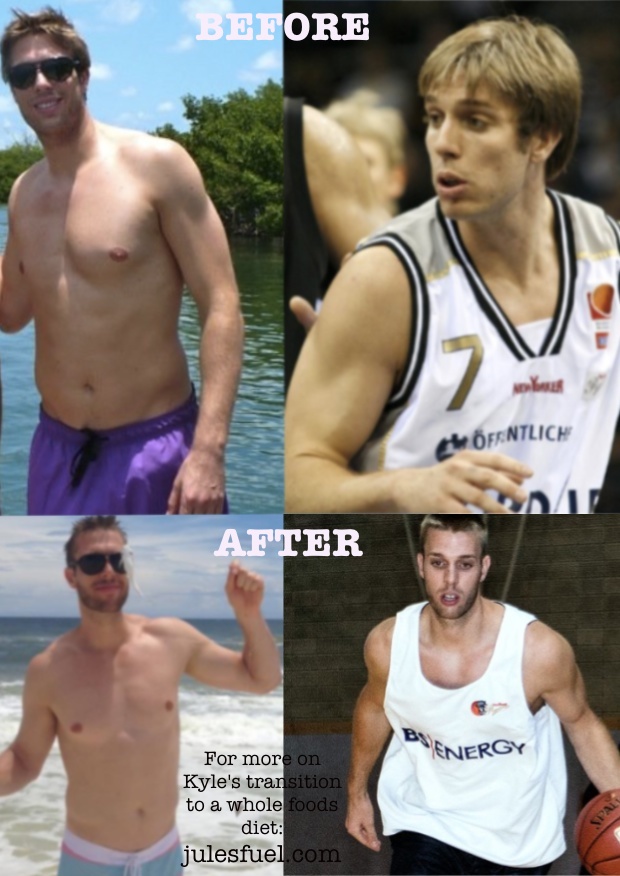 Interview with Kyle Visser: Transitioning to a Whole Foods Diet 
Q: Why did you make the switch to eating gluten-free and dairy-free?
Without getting too personal, I have had stomach issues (like IBS) for many years, and it was time to get that under control. Also, Crohn's disease runs in our family, and I wanted to try to take the reigns and stay clear of that disease, if possible. Through my wife's studies, she suggested that I cut out gluten and dairy, because they might be causing my issues. My improvements prove they were.
Q: What did you used to eat and drink as an athlete?
In college, I consumed multiple Gatorades every day.  I drank tons of whey protein with milk and ice cream, because there was a big push for me to put on muscle as a freshman. I also consumed my fair share of pizza, breadsticks, Mexican food, and cereal to get "extra" calories.
Q: What do you currently eat and drink as an athlete? What have you substituted in place of  "carb loading" foods?
Now, I do not really drink anything besides water and occasionally 100% fruit juice in terms of sports drinks. I do drink protein shakes after I work out for a quick recovery, but I stick to organic rice protein with juice or water, with some fruit and honey.

For carb substitutions, I stick to mostly starchy vegetables – like sweet potatoes, potatoes, potatoes, beets, carrots, and pumpkin. Spaghetti squash is a good substitution for pasta, and rice cakes are great for sandwiches. I also eat different kinds of fresh and dried fruits and honey.

For fats, I eat things like avocados, coconut oil, grass-fed butter and beef, salmon, and nuts. I find this keeps me satisfied and keeps my energy much more steady, so I don't have to sleep for two hours in between practices like I used to.
Q: How is it possible to eat this way and perform without "carb loading" and the typical high carb breads, pastas, and sugars that athletes are "supposed to" eat?
I always agreed with the high carb diet for athletes, because that is what we are told from early on in life. I had my reservations about not eating "carbs" and thinking I would have no energy, but just the opposite happened. I had way more energy throughout the day and on the court. After a trial period, I was convinced this was my new way of eating, and I have not looked back.

Cutting out those unnecessary "extra" calorie foods, which are really just empty calories, has been huge. I've learned that these foods don't offer anything in terms of nutrition, and actually take away from recovery because they just spike blood sugar. They are also highly acidic, so they can hurt muscle recovery and building.
Q: How long did it take you to make the transition?
It probably took 2 weeks of being highly skeptical. For me, there was not a huge shift like others complain about when changing to this type of eating.

I think my cravings were maybe the hardest for me to get over. When you go from eating pizza and pasta often to not at all, there will be times when you miss that insulin spike. But, I promise you one thing, my body internally is thanking me every day that I choose not to consume these types of food.

Q: What changes have you noticed both on and off the court? Did you lose weight or muscle eating this way?
For those of you trying to lose weight and trim down, then you have found what you are looking for. I have probably dropped about 10 lbs., though my calorie intake has not decreased. I've trimmed up noticeably while eating high fat and moderate protein.

In my position in basketball, strength is a huge component and I have been able to keep my strength, and maybe even improve it, while shedding some unnecessary weight, which has made more agile.

I also went from needing 11+ hours of sleep per day and still feeling sluggish, to more like 9 hours of sleep with more sustained energy throughout the day. As far as my digestion, things returned to more normal and healthy bowel movements right away and have pretty much been consistent for the past couple years.
Q: What have been some challenges to eating this way in general and in different cultures?
I think people are almost offended when you tell them you don't eat bread or pasta. Food is such an ingrained part of our culture that people don't like it when you are doing something different than them.

That, and not eating pizza.

I think beyond culture, it is just alarming to my teammates who eat tons of carbs. They usually don't get it, so I just tell them I am allergic to bread, which is true, and that usually gets them off my case.
How do you maintain your healthy eating on the road?
My lovely wife often helps throw together a food bag that contains rice cakes, fruit, nuts, meats, etc. I think the key to it all is planning ahead because you do not always know what people are going to serve you on the road, but it honestly is not a hard thing to eat this way when you order for yourself.
What are some of your favorite pre- and post-workout healthy snacks?
Anything with almond flour in it like pancakes and sweet potato cookies. They are easy and great pre- and post-workout snacks that I can grab on-the-go!
What are some cost saving tips that you have for those trying to save money on whole foods?
Go to the farmers market and support great local farmers!
What are some resources that were really helpful for you during your transition?
Mark Sisson's website, and of course your website, julesfuel.com!
(Note: I love the plug, but did not make him say that!)
What advice do you have for both athletes and non-athletes trying to transition to this type of lifestyle?
Give it a try. Not just for a day, but maybe a month. I don't think you will go back to your previous ways once you realize how good you feel.
Do you plan on eating this way after you're finished with your career? If so, why?
I do, because for me, at this point, there is more on the line than just points and rebounds.

We are only given one life and one body, and I truly believe God wants us to make the most of our time here on earth. I, along with my wife, are health enthusiasts and until someone tells me and proves to me that there is a better way of living and eating than a whole foods, gluten-free diet, I am sticking to it!"
:::
Thanks to my dear hubby for sharing his experiences eating whole foods as a professional athlete!
I hope Kyle's perspective on healthy eating has helped and inspired you in your quest for eating and living well – whether on or off a court.
If you have any more questions, please write in the comments below, and Kyle will be happy to respond!
 :::
This post was shared on Real Food Wednesday, Sunday School Carnival, Pennywise Platter Thursdays. Party Wave Wednesday, Simple Lives Thursdays, Thank Your Body Thursday, Fight Back Friday.