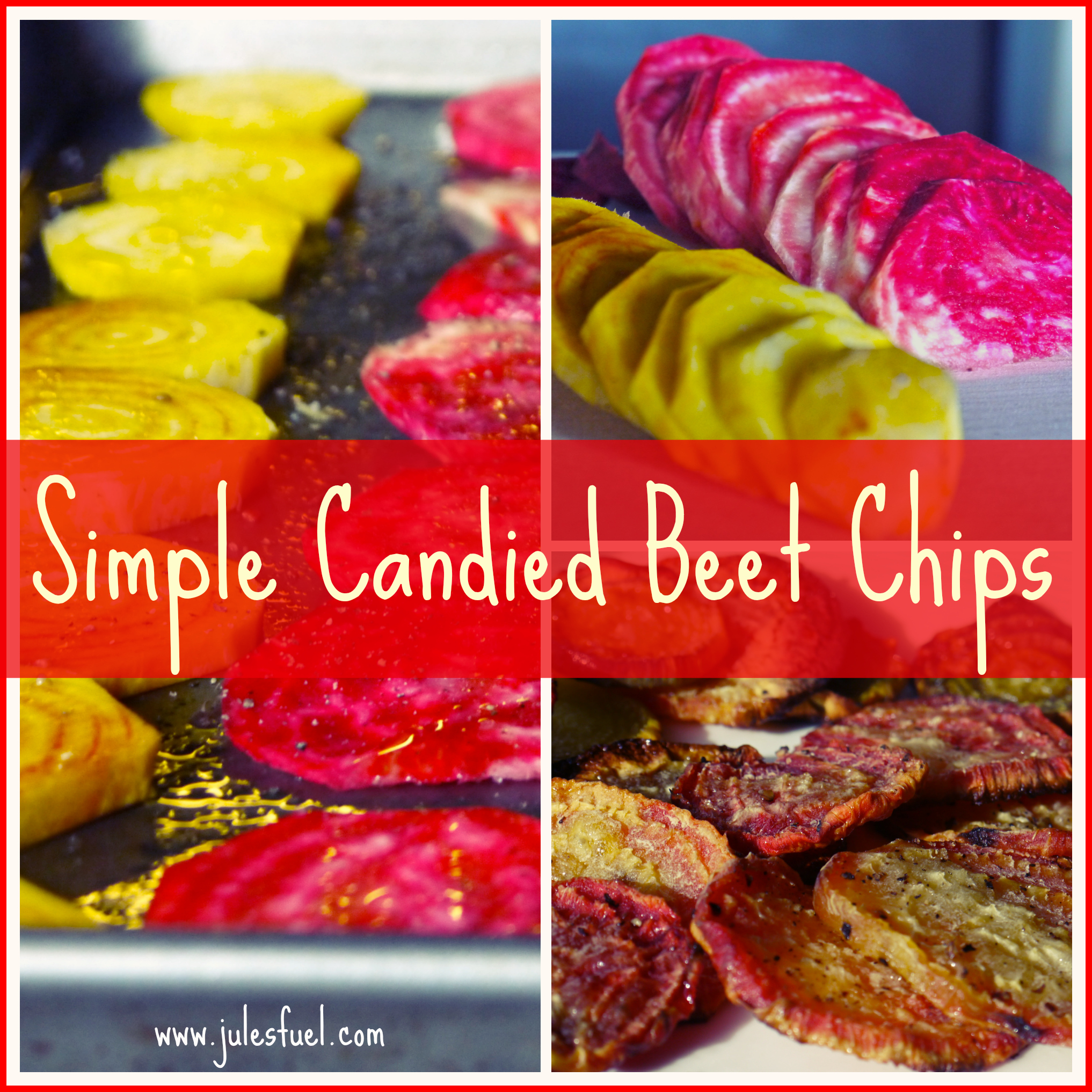 Do you drool when you think of chips 'n dip?
I'm guessing you do. It's a part of our long-standing American food culture.
We love easy, and we love finger foods.
Potato chips, pretzels, Fritos, Cheetos, Doritos (nice little rhyme there), and other ridiculously simple, pre-packaged, processed, chemical-laden (okay, almost done with my rant!) snacks are a necessary part of football season, parties, and life!
So the question is:
If you want to adopt a lifestyle of eating mostly real, whole foods (like our genetics are designed for), what do you do for chips 'n dip?
How do you fill the void?
VEGGIES. Yes, reinvented veggies.
While living in Germany last year, I went through a bit of an obsessive cooking frenzy, reinventing our diets without processed foods. Lacking easy chips and other crunchy finger foods, I had to get creative, especially with a professional basketball-playing, calorie-guzzling husband.
So, we adopted crunchy and scoop-able (new Wikipedia word?!) carrots, celery, and cukes as respectable placeholders for chips and crackers. Though delicious and easy, they don't always give you that same salty, crunchy smack.
Thus, out of continuous experimentation, my simple, candied beet chips were born! When sliced at the perfect thickness and baked long enough, the beets caramelize and literally melt in your mouth.
The best part?
Beets Can't Be Beat (Yes, I went there). 
Beets are the bomb when it comes nutrition, especially because BOTH the beet greens, and the beet roots are highly nutritious eats.
Plus, they are man-proof. Last weekend with a mouthful of beet chips, Kyle literally told me that had he not met me, he never would've experienced these delicious treats (awww, isn't that sweet).
George Mateljan's The World's Healthiest Foods (2007) explains their powerful nutrition:
They contain betalains, a unique class of phytonutrients that are potent antioxidant protectors.
In fact, beet greens are one of THE best sources of antioxidants!
Beets are highly cleansing for the liver, as they help protect the liver from free radicals and protect against precancerous cellular abnormalities.
Beets are high in fiber, and promote heart health by lowering triglycerides and increasing HDL cholesterol.
Without further ado, check out an easy way to create a sweet/salty/crunchy alternative to finger foods!
Simple, Candied Beet Chips
Ingredients
2-3 large beets
Olive oil
Sea salt
Pepper
Instructions
Set your oven to 375 degrees, and chop the beet greens off (if you haven't already). Refrigerate the beet greens to cook at a later date.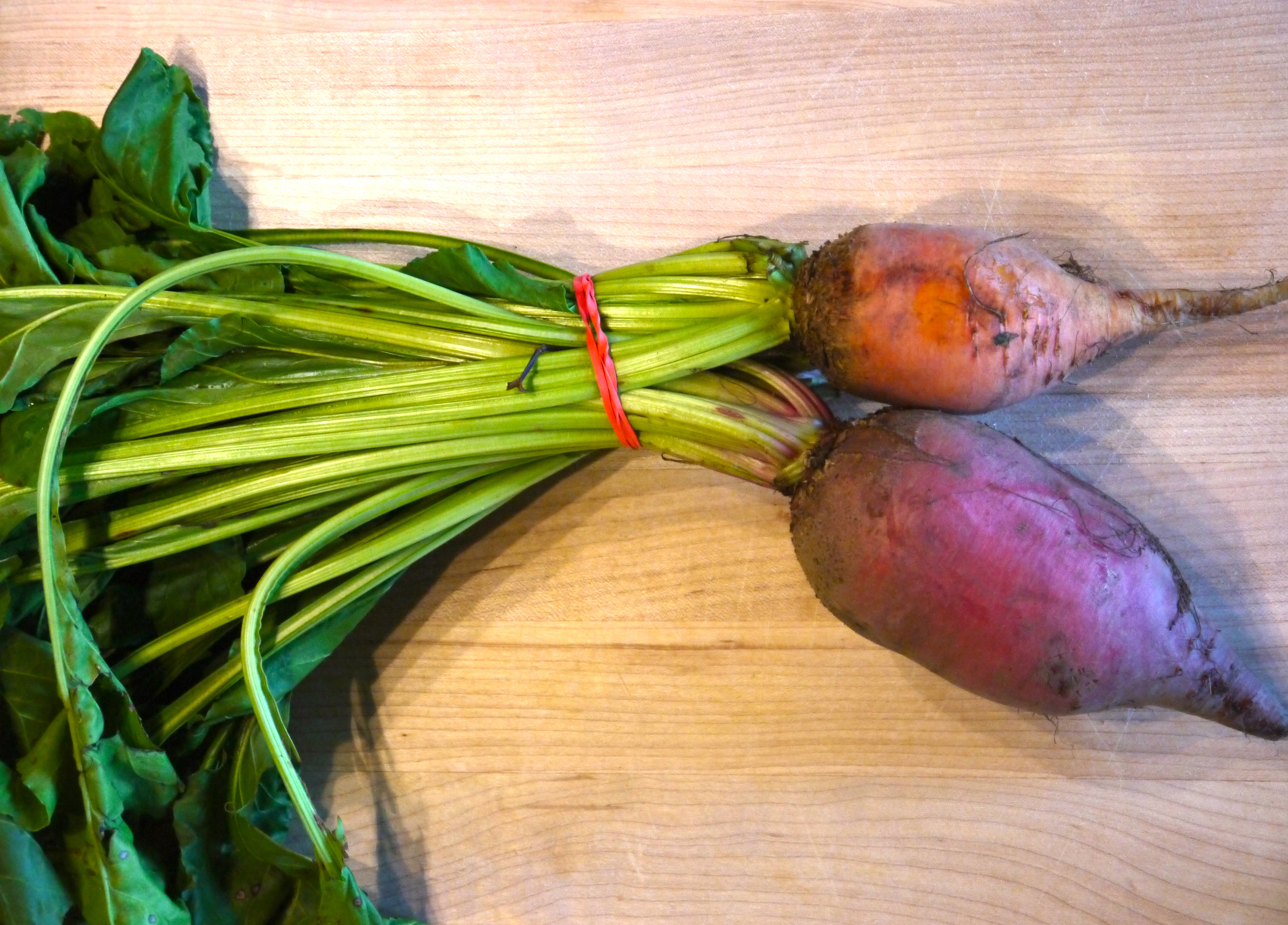 Next, peel the beet skins off, and grease a baking sheet with olive oil.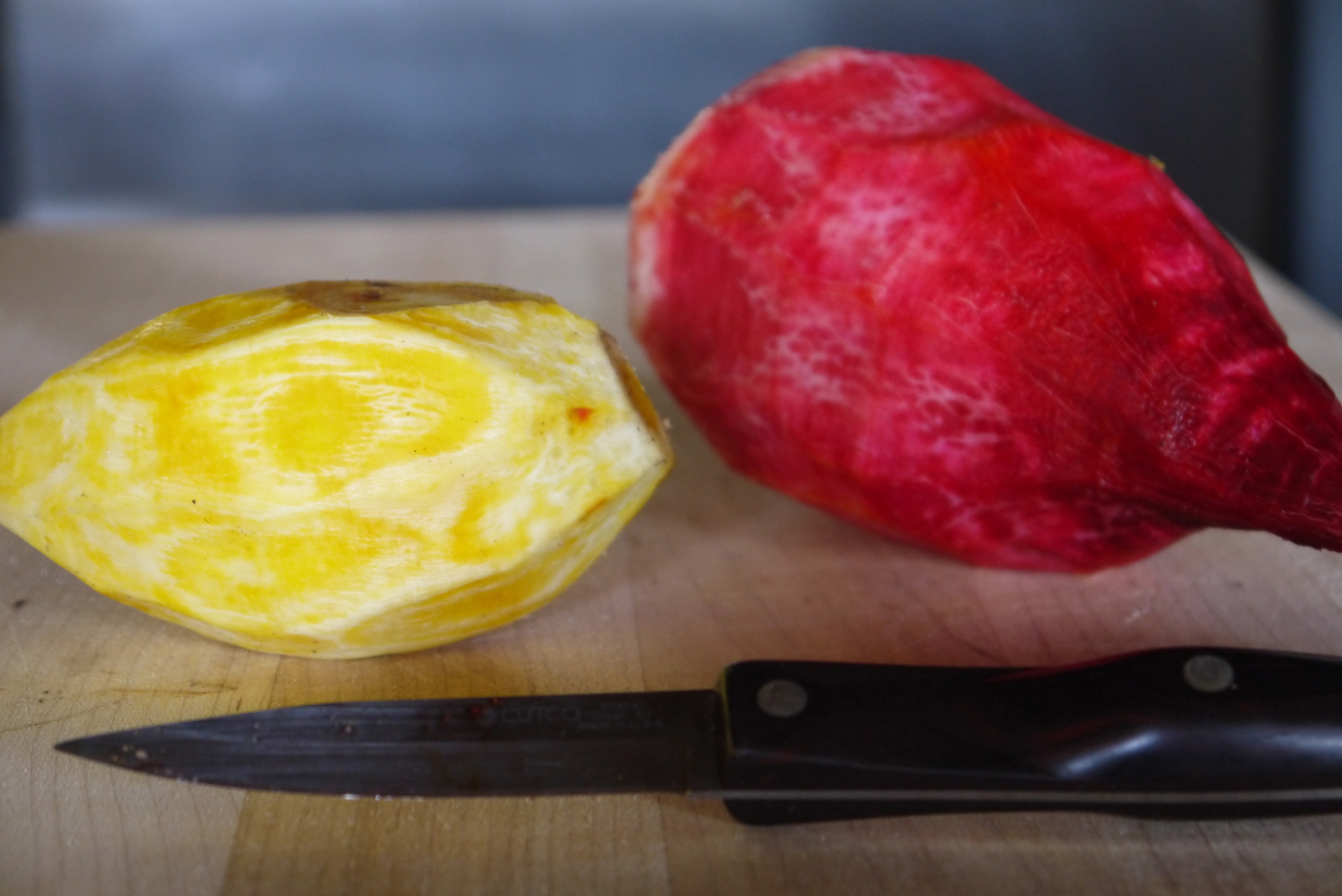 Then, chop the beets into round slices, about 1/4″ thick.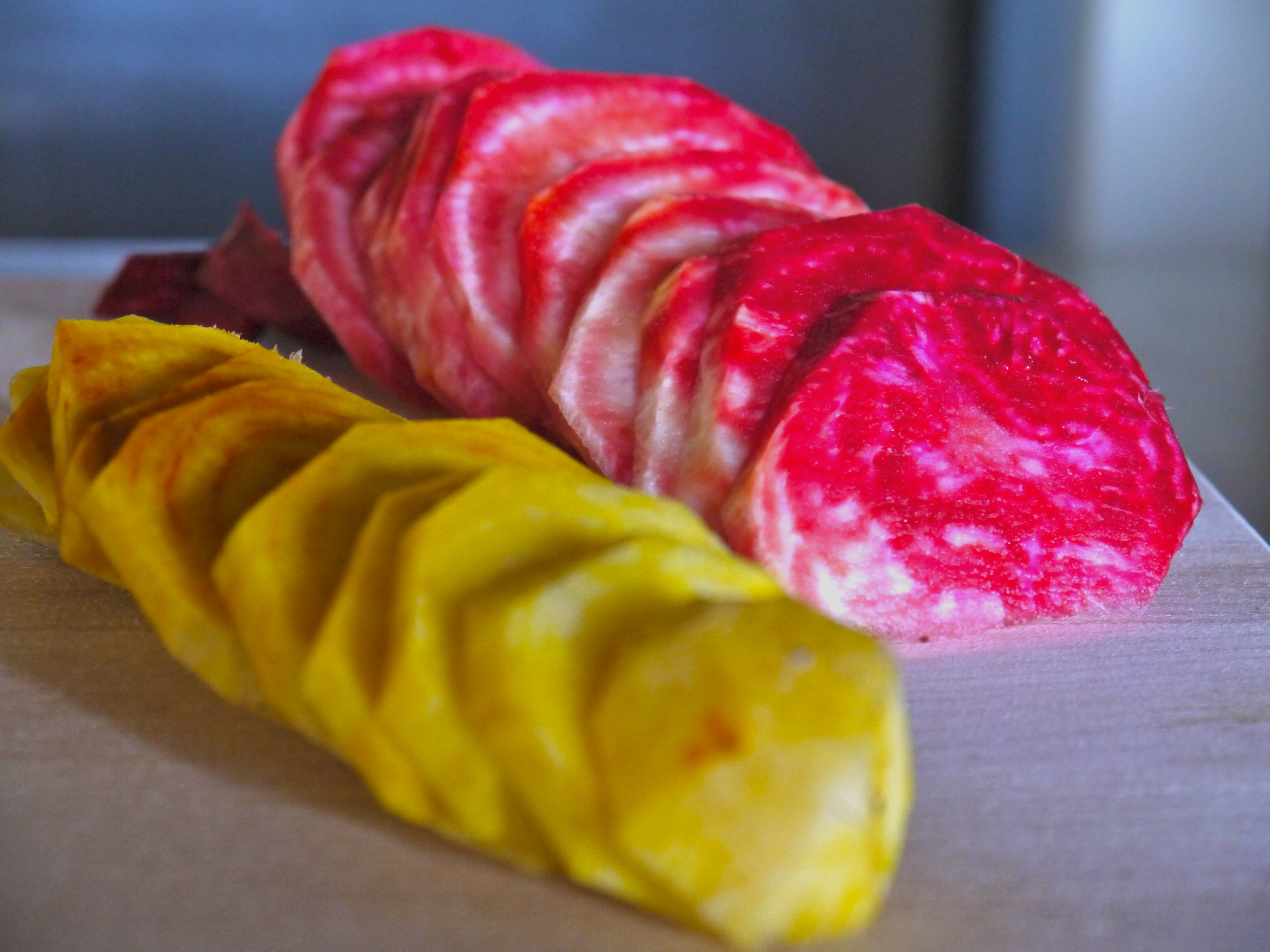 Place the beet rounds onto your baking sheet, and drizzle with olive oil, a dash of sea salt, and pepper.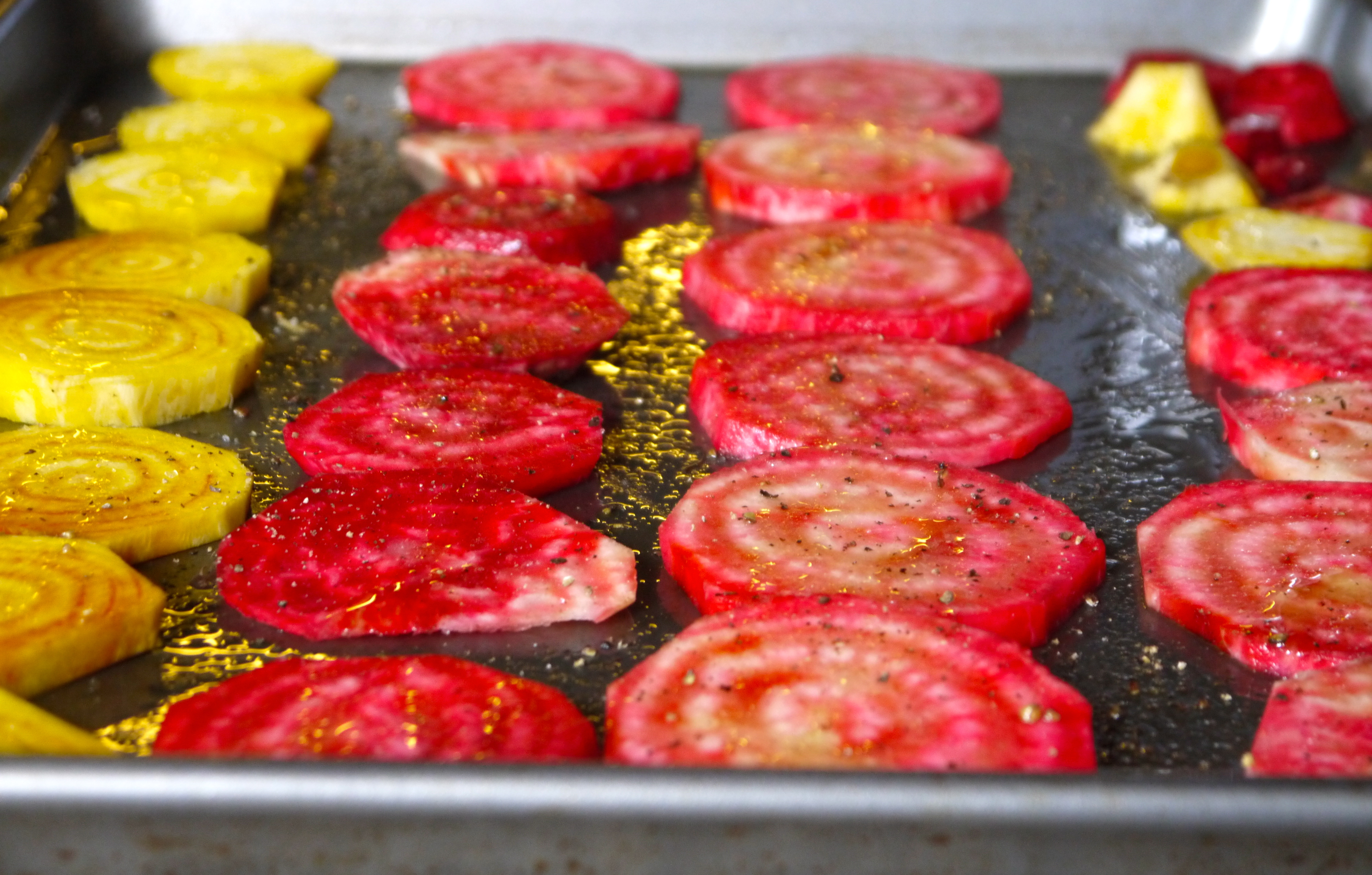 Bake the beets for about 40-50 minutes, checking for crispness. Note: They will shrink considerably, as you can see in the pre- and post-oven baked pictures. Take them out of the oven right as they begin to turn golden brown/darker red, and before they burn black!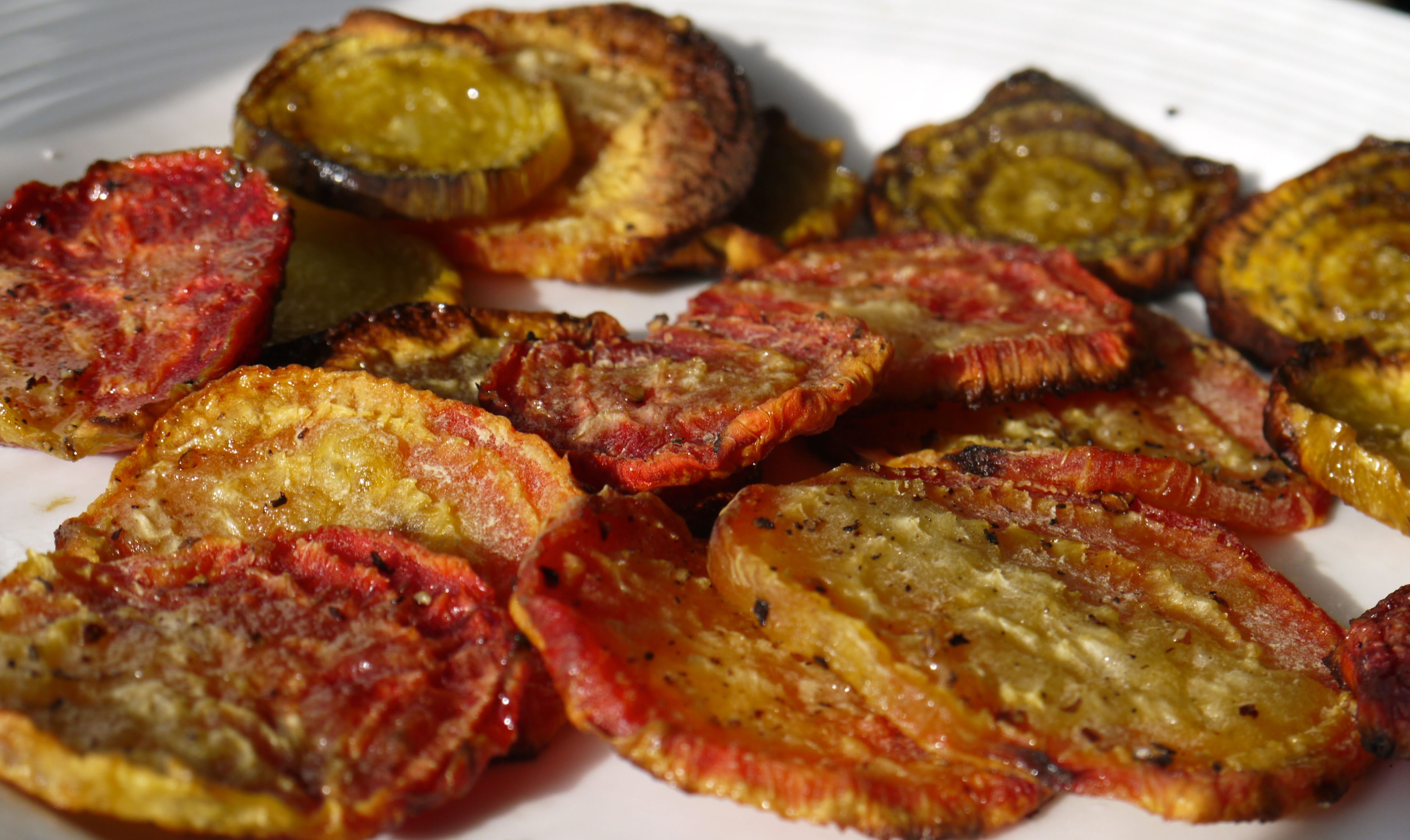 Savor as a side dish, a snack, add goat cheese on top; or use to dip in hummus or baba ghanoush! Enjoy!!
References
Mateljan, George. The world's healthiest foods: essential guide for the healthiest way of eating. Seattle, Wash.: George Mateljan Foundation, 2006. Print.