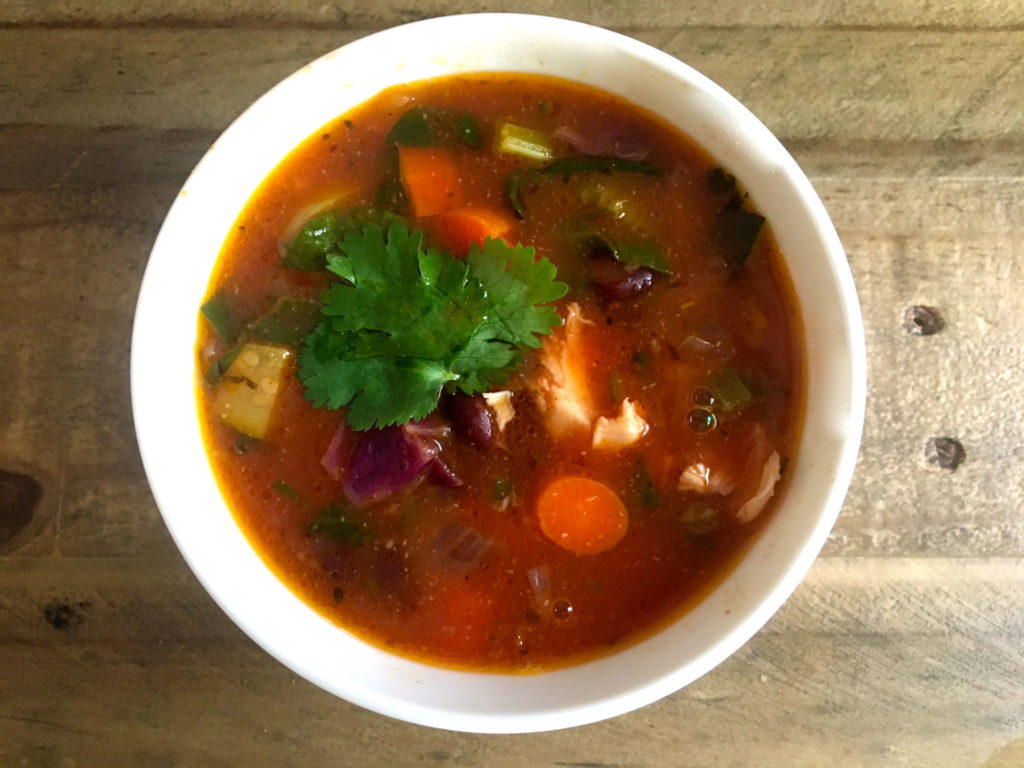 It's May, cloudy, and 46 degrees out.
And something just feels so right about a pot of soul-warming homemade soup!
I nostalgically inherited my love of soup making from my mother, and believe that soup can make everything better. From healing the gut to boosting the immune system to brightening gray May days!
The only problem is, I've literally been making the same variation of chicken vegetable soup this ENTIRE winter.
So I opened the fridge to get the ideas flowing, and there it was: Pre-chopped slaw ingredients, leftover chicken, cilantro, and lime. Could it be more obvious?
My version of chicken tortilla(less) soup turned out hearty, with an amazing depth of flavor that will fill your family's vegetable quota for the day (unless you aim for copious amounts like us…hehe). May this soup bring you delicious nourishment and warmth!
P.S. I'm more of a recipe guess-i-me kind of gal, so don't hesitate to tinker with ingredient quantities to make yours exactly how you like it.
Chicken Tortilla-Less Soup (Gluten & Dairy Free)
Ingredients
3 cups of pre-made chicken (I used leftovers from our roasted chicken the night before)
1 can of black beans
7 – 10 cups of bone broth / chicken stock (homemade is best!!)
1 – 2 tablespoons of olive oil
5 large carrots
8 celery sticks
1 pepper of choice (I combined red, yellow, and green)
1/2 small purple cabbage
2 cups spinach
1 can of crushed tomatoes
1 – 2 tablespoons tomato paste
2 limes, juiced
3 cloves of garlic
1 medium onion
1 – 2 teaspoons of cumin
1/4 teaspoon of paprika/chili powder mix
To taste: Salt, pepper, oregano
Optional: Top with avocado and cilantro
Instructions
Sauté chopped onion and crushed garlic in olive oil in large soup pot until translucent.
Chop the rest of the vegetables – minus spinach. Then, put the top on and let the vegetables cook on low/medium heat until soft(ish).
Add black beans, crushed tomatoes, tomato paste, and bone broth.
Bring to a slight boil and then reduce to low/simmer.
Add chopped spinach, lime juice, and seasonings.
Top with avocado and cilantro and dive in!