A Quick Guide to the Healthiest Pans
Scorch the chicken on my scratched up Teflon non-stick pan.
Set off the fire alarm.
Repeat.
That was the extent of my college cooking.
Since when did people decide Home Economics wasn't mandatory for my generation??!
Well, I clearly had no clue how to cook – and no CLUE that I was just bathing myself and my food in toxins. And probably getting the "Teflon Flu."
Until I was about 24 years old, I had no idea what Teflon® was. Moreover, this so-called Teflon flu, but according to the Environmental Working Group, when cookware coated with Teflon (includes most aluminum cookware) is heated, it emits hormone-disrupting chemical fumes and tiny, toxic Teflon particles that can kill household pet birds and cause sickness.
NO BUENO.
Besides the toxicity of aluminum and Teflon® (or polytetrafluoroethylene, a.k.a. PTFE), another manmade chemical in non-stick cookware is perfluorooctanoic acid (PFOA). The Environmental Protection Agency (EPA) and International Agency for Research on Cancer calls this "possibly carcinogenic to humans." Lovely.
So let's just all avoid aluminum, plastic, and Teflon-coated cookware, okay?
Which leaves us with….
The Healthiest Types of Pans
When properly seasoned, cast iron is great for cooking! When food does leach from the cast iron, it's … iron, an essential mineral. And because some of us are deficient in iron (especially women, vegetarians and vegans, and endurance athletes), cast iron cookware may actually be a great contributor to health. An exception would be people with risk of iron overload (which can be severe).
Another benefit: Cast iron can be used in the oven or on the stovetop, and as long as you don't scrub with soap and a brillo pad, it provides a great non-stick surface to cook on.
One downside: You can't cook with tomato products, because the acid interacts with the pH of the pan, giving it a funky flavor.
Stainless steel pans have an inner core of aluminum or copper sandwiched between layers of steel, and may contain some less risky materials that can leach – like iron, chromium, manganese, and nickel. But, because the combination of metals used is more stable than other cookware materials, it's much less likely to have any leaching. The exception would be compromising the pan by using harsh, abrasive cleaning materials like steel wool.
So as long as you use mild cleaning products and keep the surface intact, stainless steel is an awesome, healthy cookware option!
We have this set of stainless steel pots and pans, and love them.
A few weeks ago, husband and I decided we needed a healthy non-stick pan – if one even existed – for, you know, eggs and pancakes and such.
So I did some research, and found this amazing GreenPan, which we promptly purchased and have loved ever since!!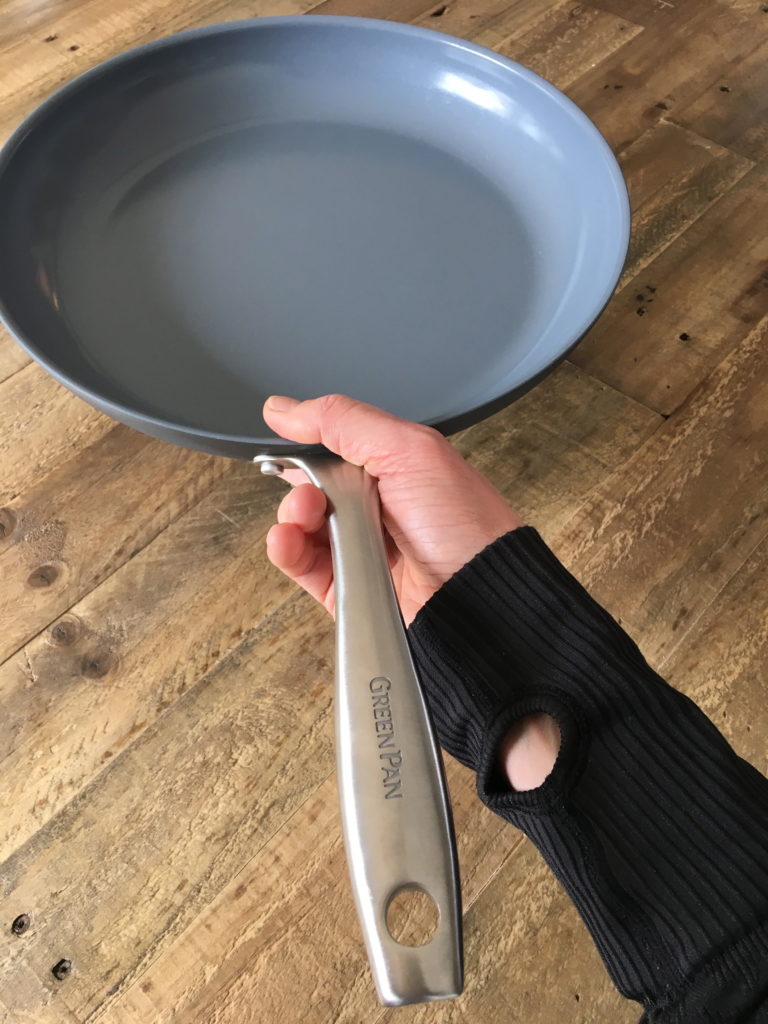 It doesn't contain any toxic chemicals or persistent pollutants, is manufactured without PFAS, PFOA, lead and cadmium, and the coating won't blister, peel or release any harmful fumes even if accidentally overheated. YAAAASS. Bonus: It's oven safe up to 420 degrees!
Another good option is this ceramic pan.
*photo credit: yourbestdigs Stacked set of Anolon frying pans and pots via photopin (license)