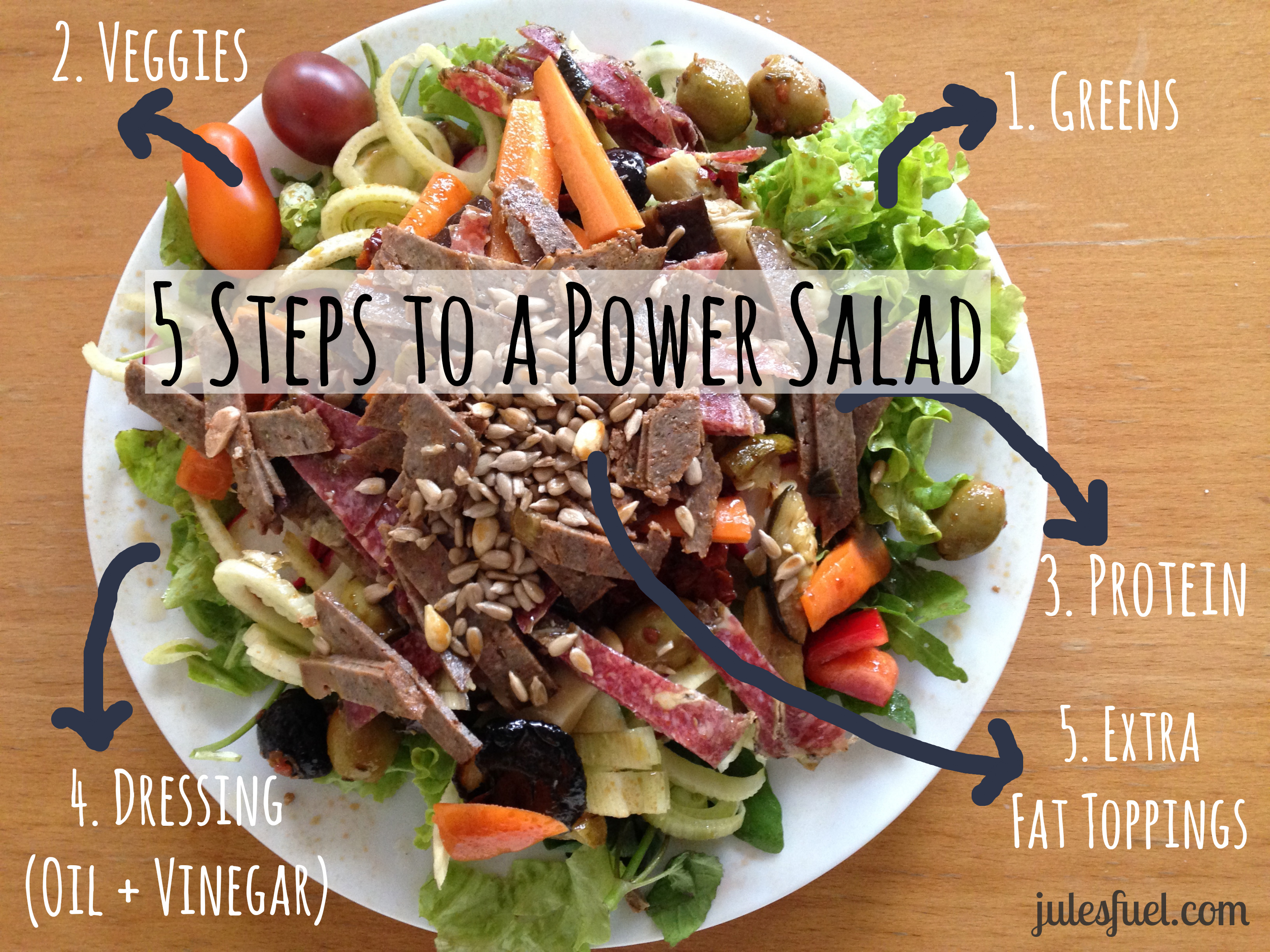 Another few weeks have already slipped by, haven't they? Unreal.
My super active baby girl is now 5.5 months and close to crawling, has 2 teeth (ohhhh teething!), and wears 9-12 month clothing comfortably (I know. Seriously.).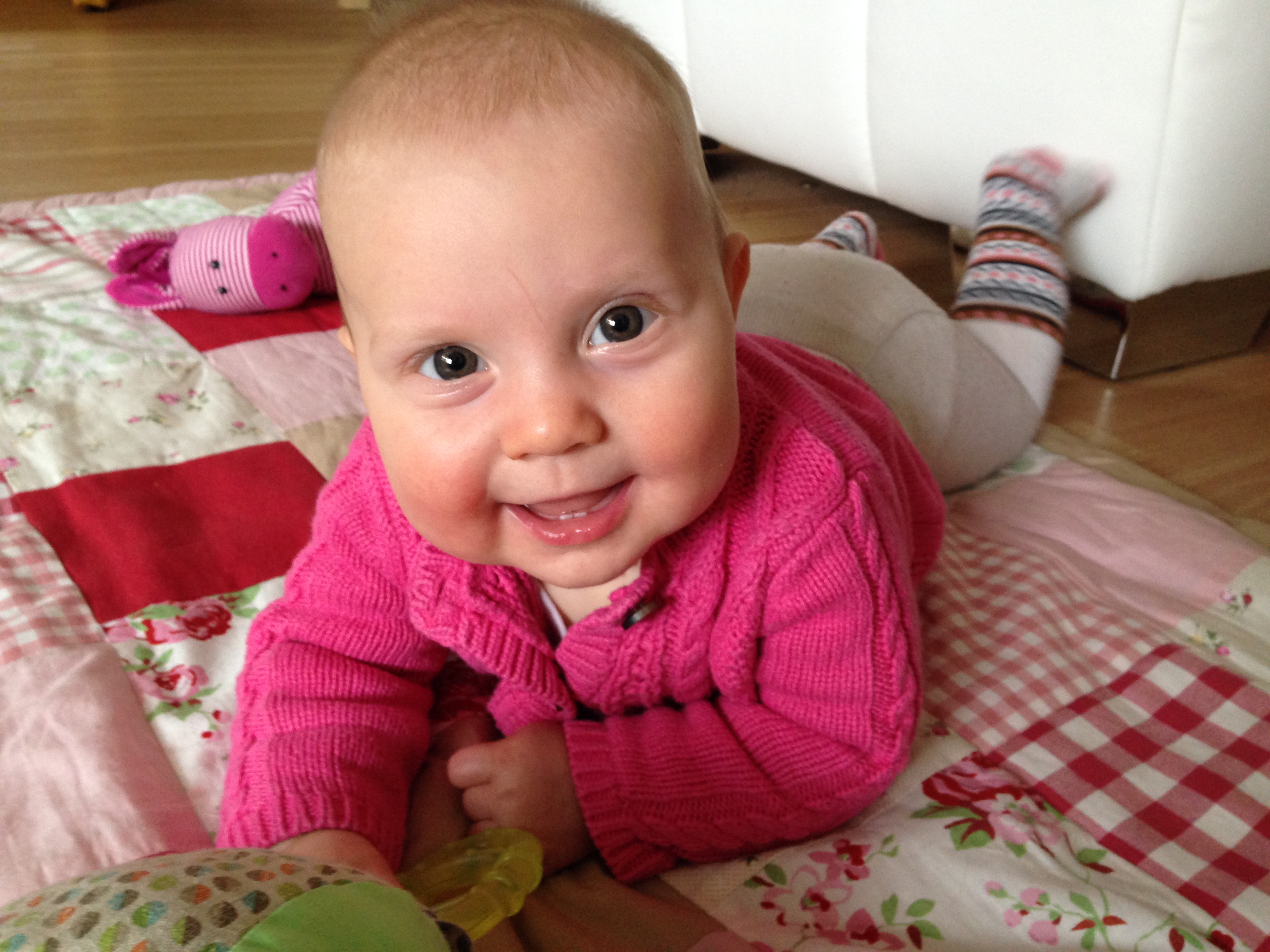 We've also made it back across the "pond" to Germany for my husband's upcoming basketball season! We've been taking advantage of our favorite local markets, the beautiful green spaces and parks, and the sweet, albeit mild, summer weather.
Meanwhile, adjusting to parenthood and splitting my time amongst baby and hubby, work, studying, and blogging (ahem, I know I've been delinquent), has pushed elaborate meals to the end of my list.
Tear.
I do miss experimenting in the kitchen, but time is of the essence these days, so when I do cook, it's usually something I can whip up in 20 minutes or less while Charlize is napping or playing.
Like this Power Salad.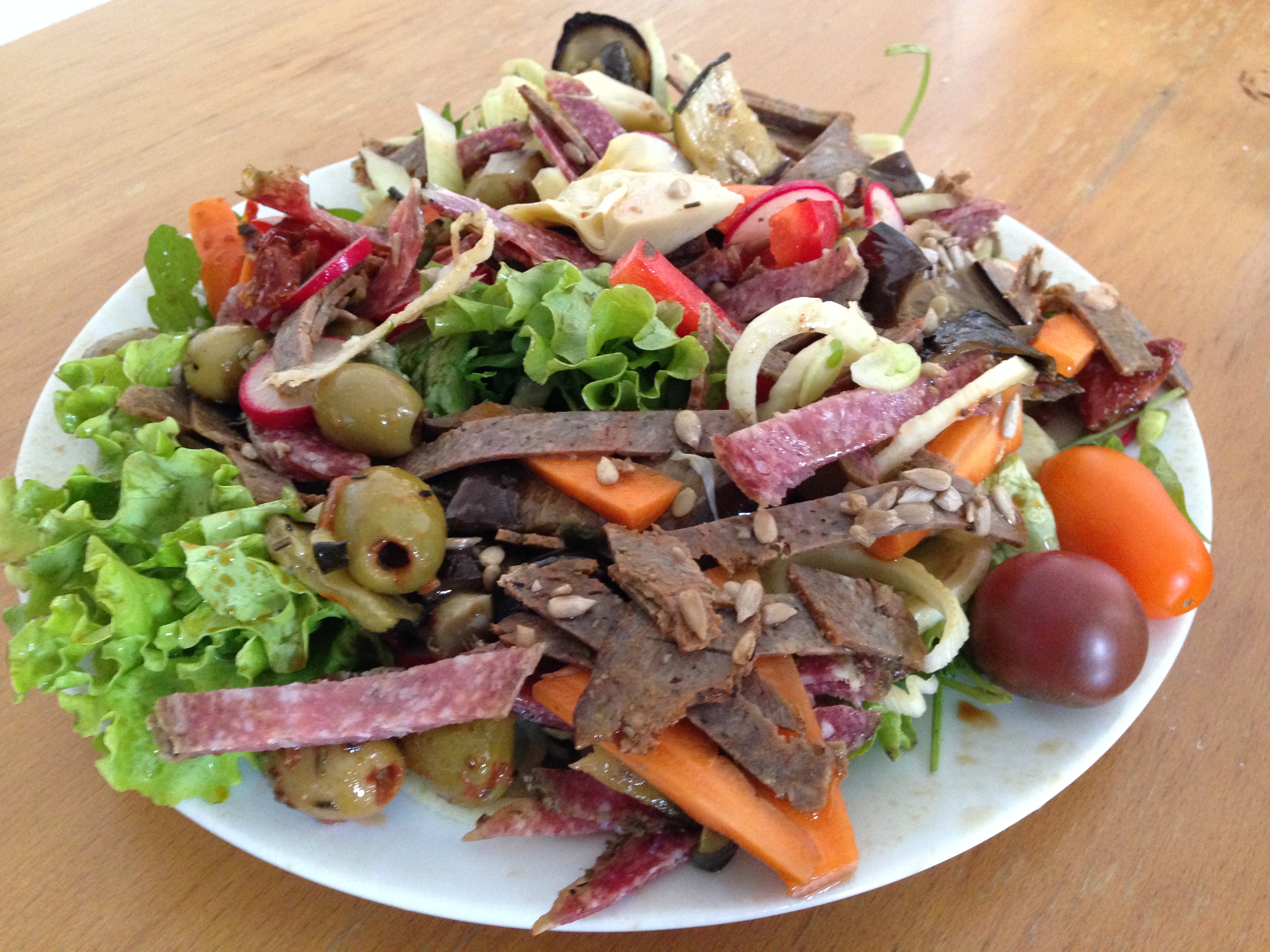 It is absolutely the easiest,
most efficient,
most nutritious,
most filling,
and truly, one of the cheapest lunches I have ever come across.
It's also quite portable if you throw it in a nifty storage container like this, and cooler, if needed for work or travel.
What's the secret formula for creating a Power Salad?
5 Steps to a Power Salad
1. Layer fresh

greens

 for the base.
I like to mix in different greens for an even greater nutritional punch like arugula, rucola, romaine, etc. For tips on how to choose, prepare, and store the best greens, read my post here.
2. Add colorful veggies (in season, preferably, for greater nutrients).
The more variety in color, the better! Color = phytonutrients and antioxidants. Personally, I love cucumbers, carrots, radishes, red pepper, tomatoes, fennel, and kohlrabi, to name a few. I'm also OBSESSED with adding antipasti to my salads from our local market here in Germany.  Eggplant, zucchini, sun dried tomatoes, and artichokes… they're seriously the bomb.com.
3. Add a protein source.
Protein will keep your engine running steady and longer, as will healthy fats. Some of my favorite protein sources include:
Leftovers from last night's dinner (salmon, etc.)
Chicken
Turkey breast
Salami
Soft-boiled eggs (Here's a no-fail recipe for the perfect boiled egg!)
Nuts/seeds
Or, my recent favorite to throw on my salad is sardines!!!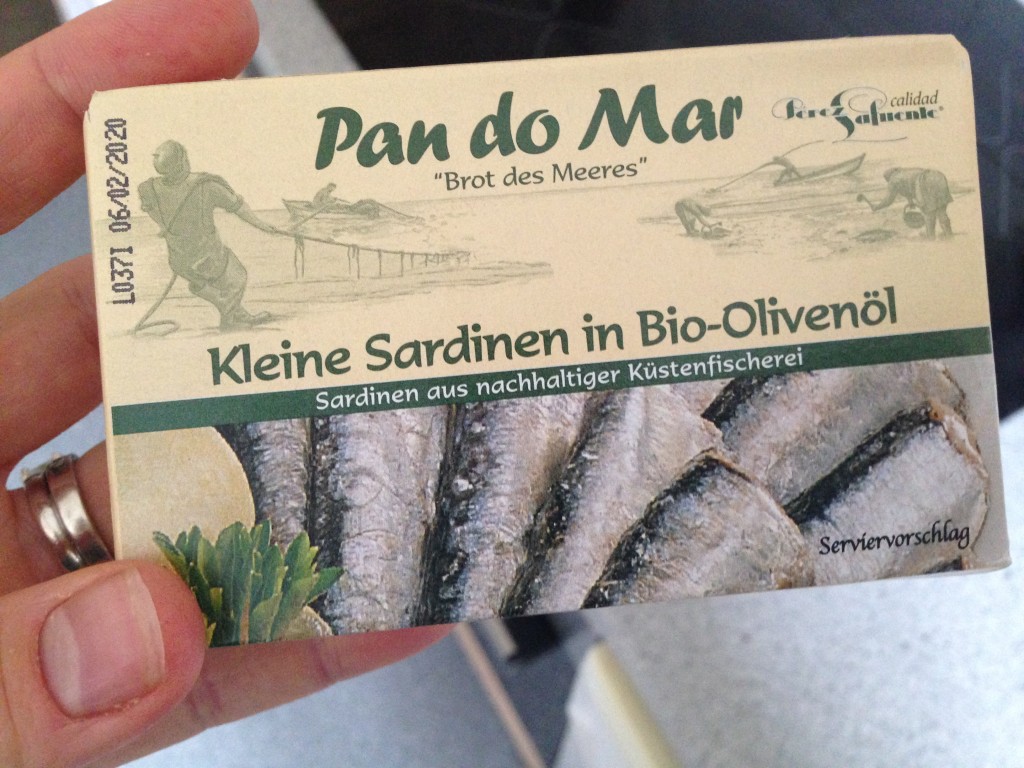 Yes, they are PACKED with nutrition: Calcium, vitamin D, brain-boosting Omega-3 fatty acids and vitamin B12, to name a few. They also take zero preparation. Open the can, drain (if you so choose), and dump on your salad.
4. Drizzle your dressing: Oil and vinegar.
I like to keep it simple when it comes to dressing. My go-to is typically Extra Virgin Olive Oil and vinegar (balsamic, white wine, and apple cider vinegar are my faves). If I'm into an Asian theme, I'll use sesame oil as well.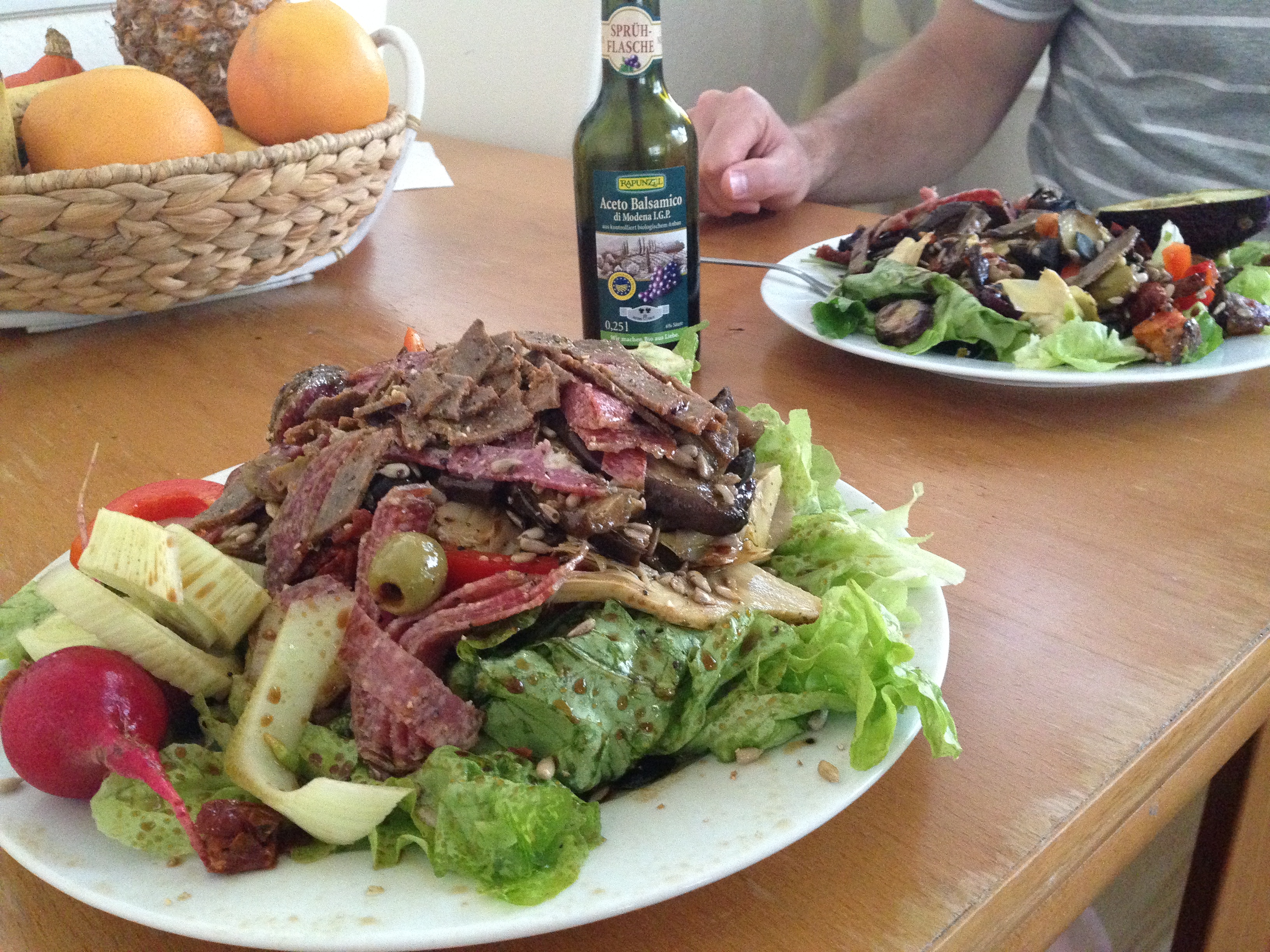 You could also purchase an organic dressing like this to keep it easy (watch out for those with crappy oils like canola, cottonseed, soy, and/or sunflower seed oils!).
5. Add some extra fat toppings.
I love adding other healthy fat sources on top to help keep me fuller longer, to satiate my appetite, and to add some flavor flair. Some of my favorites include:
Sunflower seeds and pumpkin seeds as "croutons"
Avocado slices
Olives
Annnnd, there you have it! Five steps to a nutritionally superior lunch that will give you the boost you need to finish your day on a high.
To make these steps even easier, I always hit up my local farmer's market to keep my fridge stocked with the ingredients to supply the Power Salad. I also try to make a salad in bulk at the beginningof the week, so I can literally dump it onto my plate and my protein, toppings, and dressing.
Stay fueled, my friends!
:::
Your turn! What is your go-to quick, nutrition-packed lunch?