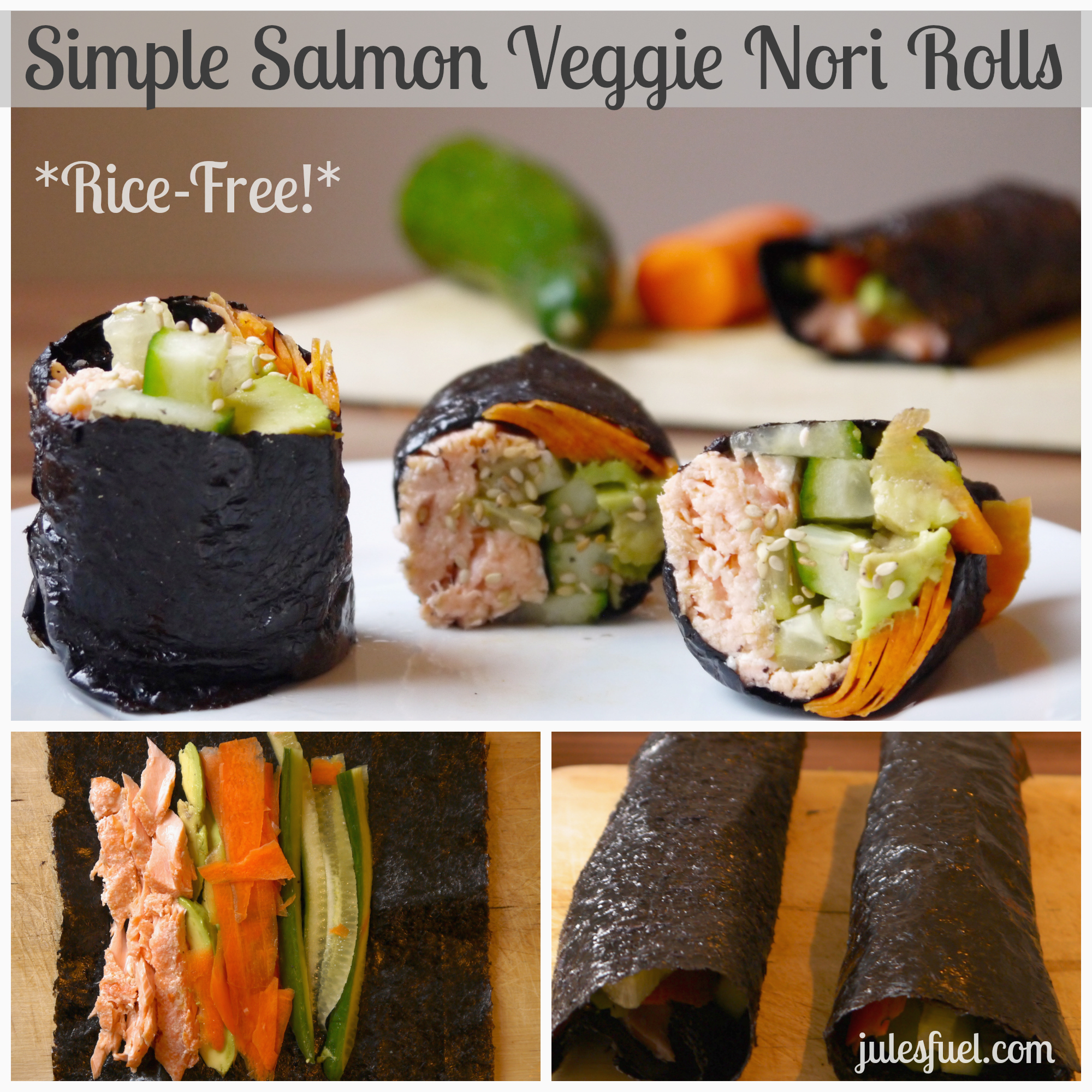 Just when I think I've tried everything, some new food or dish comes along and throws me into a whole new world of tastes, creativity, nutrition, and usually deliciousness.
The latter may not be the exact case for me yet when it comes to eating liver and sardines – two new "firsts" for me within the past 12 months – but I've been won over by two other "firsts" this year: Eating the whole fish carcass (thanks to Greece!) and now, homemade Nori rolls.
Thank goodness it only took me 28 (almost 29 years) to add this to my meal regime. It is SO simple and incredibly delicious, and certainly fills in for the major sushi cravings I've had during my pregnancy.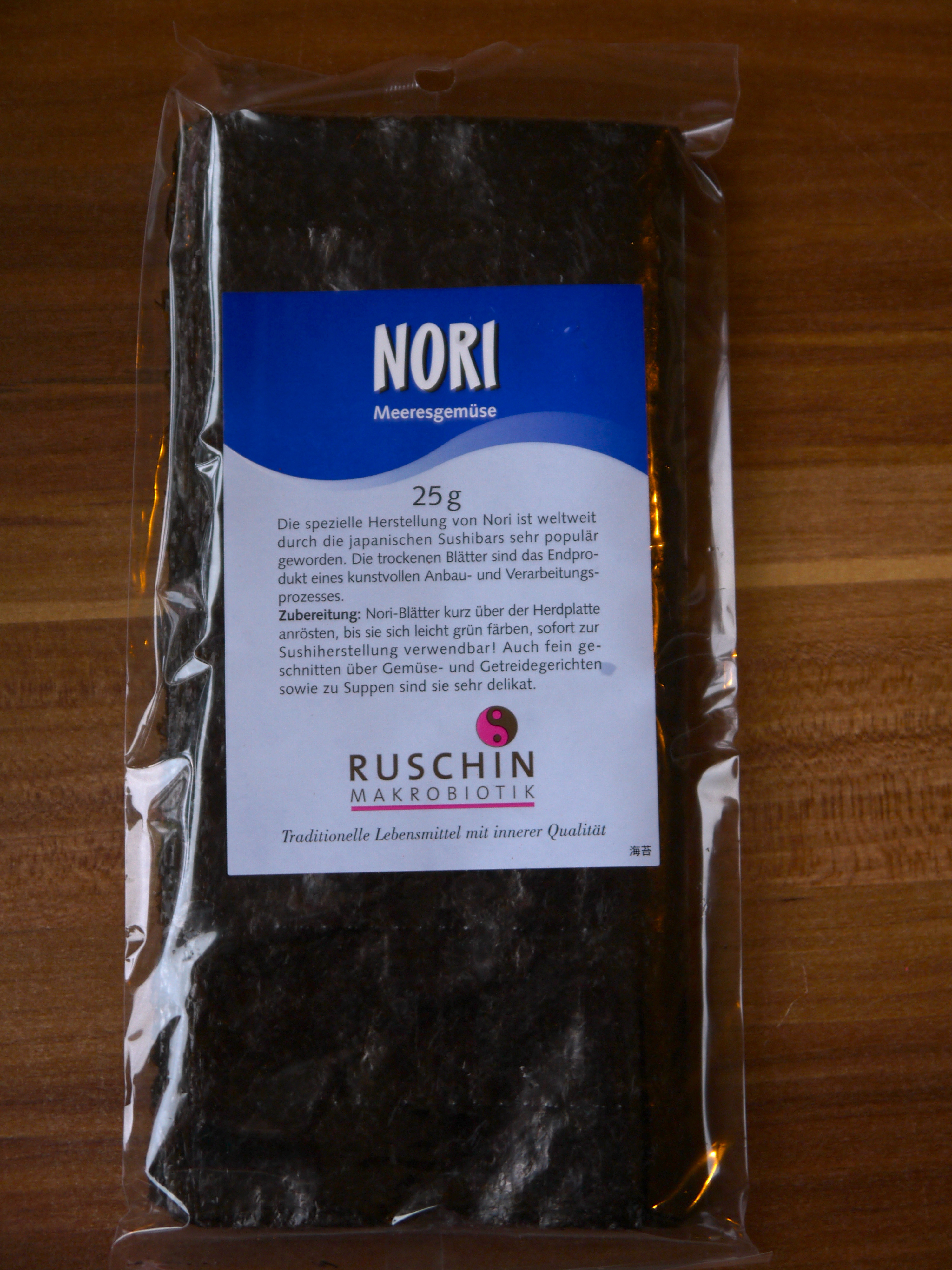 Made of dried seaweed pressed into thin sheets, Nori sheets are great for making sushi, rolls, and other Japanese dishes.
And, it provides one very important missing nutrient in our diets… iodine! Sure, you can get it from iodized table salt (along with bleach, aluminum, and other impurities), but for those of us that stick to sea salt (low in iodine but high in minerals) and don't regularly consume iodine-rich sea vegetables and seafood, iodine deficiency can be problematic.
After all, we need iodine for the production of thyroid hormone, and when deficient, it can create problems with our metabolism and overall health.
Beyond it being a significant source of iodine, the nutritional profile of Nori is stellar. One pack of 25 grams has about 10 grams of protein, along with vitamins A, C, and B12, calcium, fiber, minerals, and antioxidants.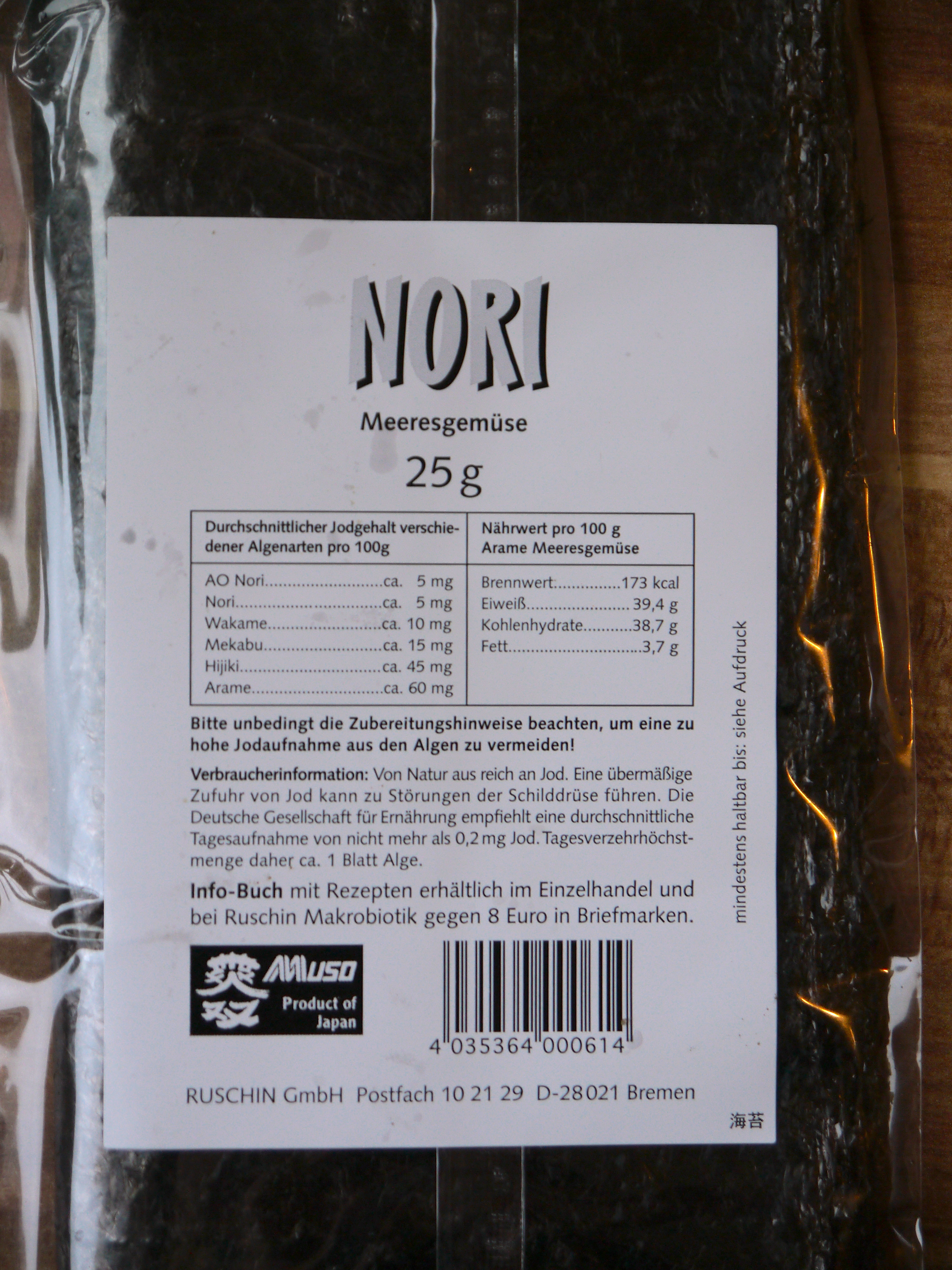 If you're wondering where to purchase it, check your local health food store, Asian stores, and even your regular grocery store. Or, you can always buy it on Amazon here.
Now, for the super easy, delicious recipe! For those of you that may be intimated, this was literally the first time I've ever made these, and it took about 2 minutes to make once I had the ingredients prepped. I plan to add these to my regular meal regime for a nutrient-dense lunch, dinner, or even a snack.
Note: The only thing I would change next time is to make a savory dipping sauce out of tamari, rice wine vinegar, sesame oil, and ginger.  Unfortunately, we were out of tamari, but a makeshift dipping sauce of sesame oil + sea salt did the job.
Simple Salmon Veggie Nori Rolls (Rice-Free!) 
Ingredients
*Makes 5 full Nori rolls
1 pack of raw Nori sheets
1 cucumber
1 carrot
1 avocado
12 ounces of wild-caught salmon
2 tbsp extra virgin olive oil
Sea salt, to taste
Optional: Tamari, white wine vinegar, ginger, and sesame oil to taste for dipping sauce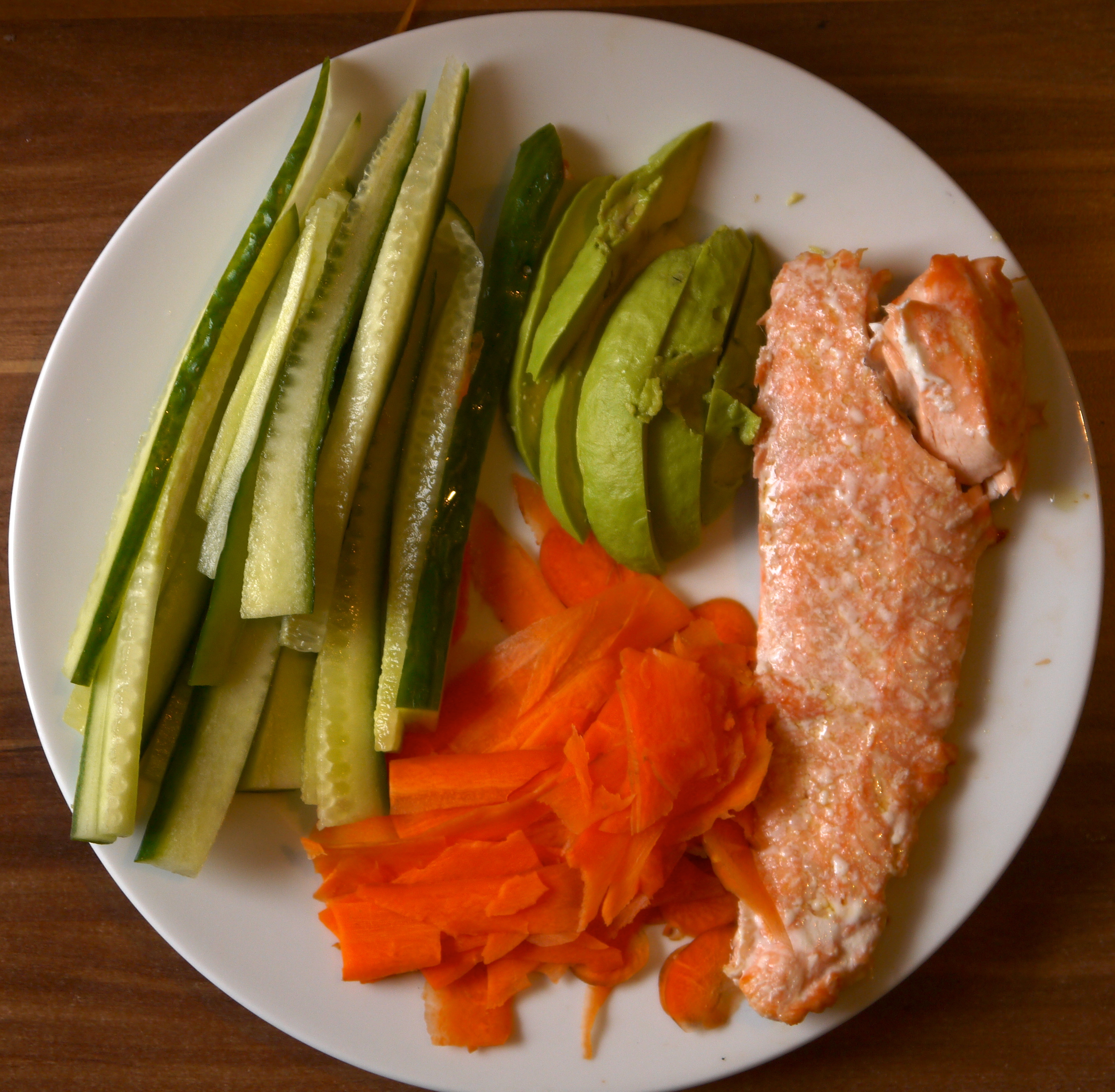 Instructions
1. Preheat the oven to 150 degrees Celcius or 300 degrees Fahrenheit. Place the salmon in a glass dish and drizzle olive oil and sea salt on it. Bake for about 20-25 minutes, or until the flesh is an opaque pink.
2. While the salmon is baking, chop thin slices of cucumber lengthwise, chop thin slices of carrots lengthwise (I used a mandolin), and slice avocado into thin chunks.
3. Once the salmon is finished, chop into small chunks lengthwise, if possible.
4. Lay the shiny side of the Nori wrap down, and add sections of salmon, cucumber, carrot, and avocado until about 2/3 of the wrap is full (as pictured below).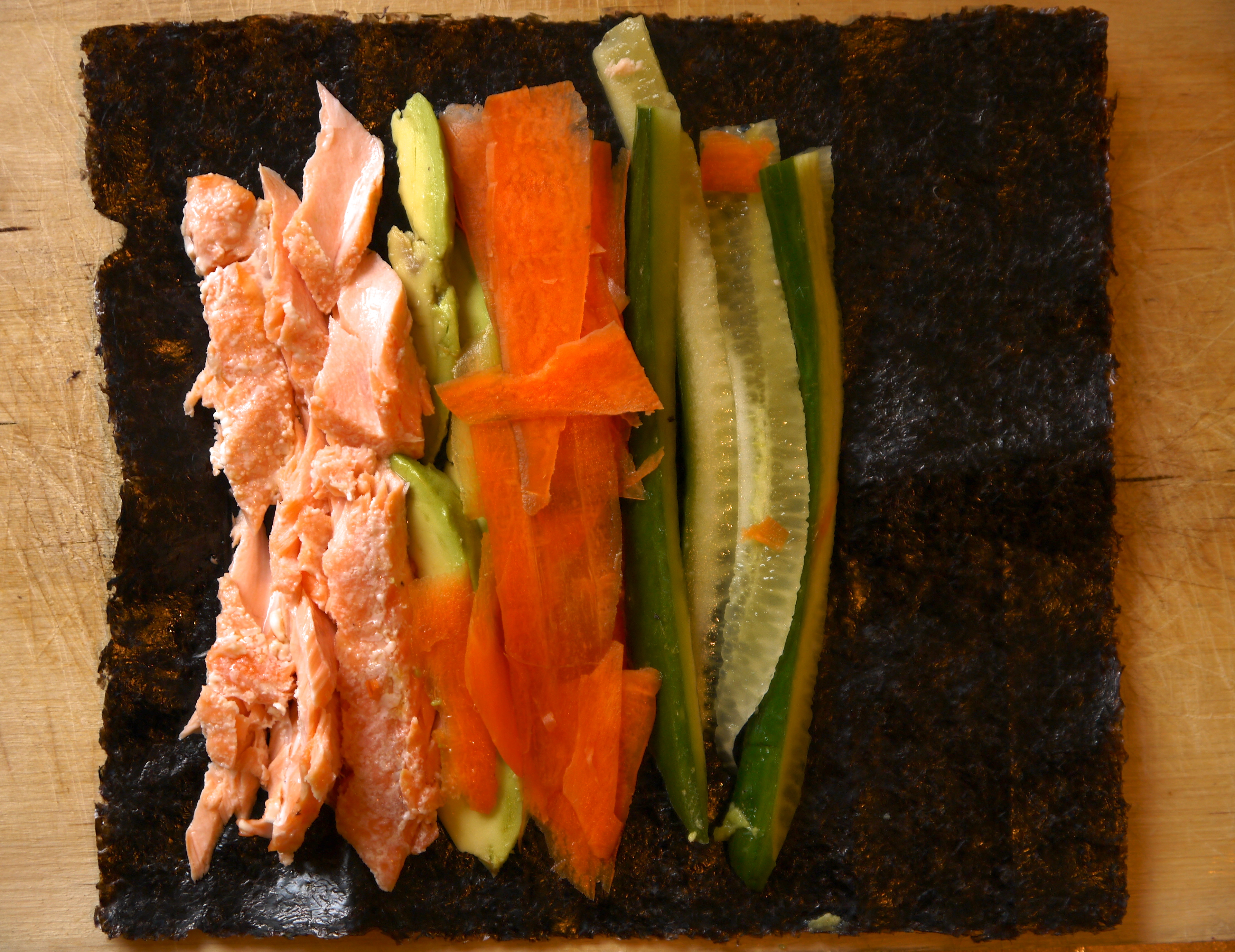 5. Carefully roll the Nori sheet into a sealed roll, sealing it by adding a bit of moisture to the end (I used a leftover cucumber slice to moisten the end).
6. Use a sharp, serrated knife, cut the roll into several sections of desired thickness.
7. Eat and enjoy with your dipping sauce of choice! (See my suggestion in the ingredients section).