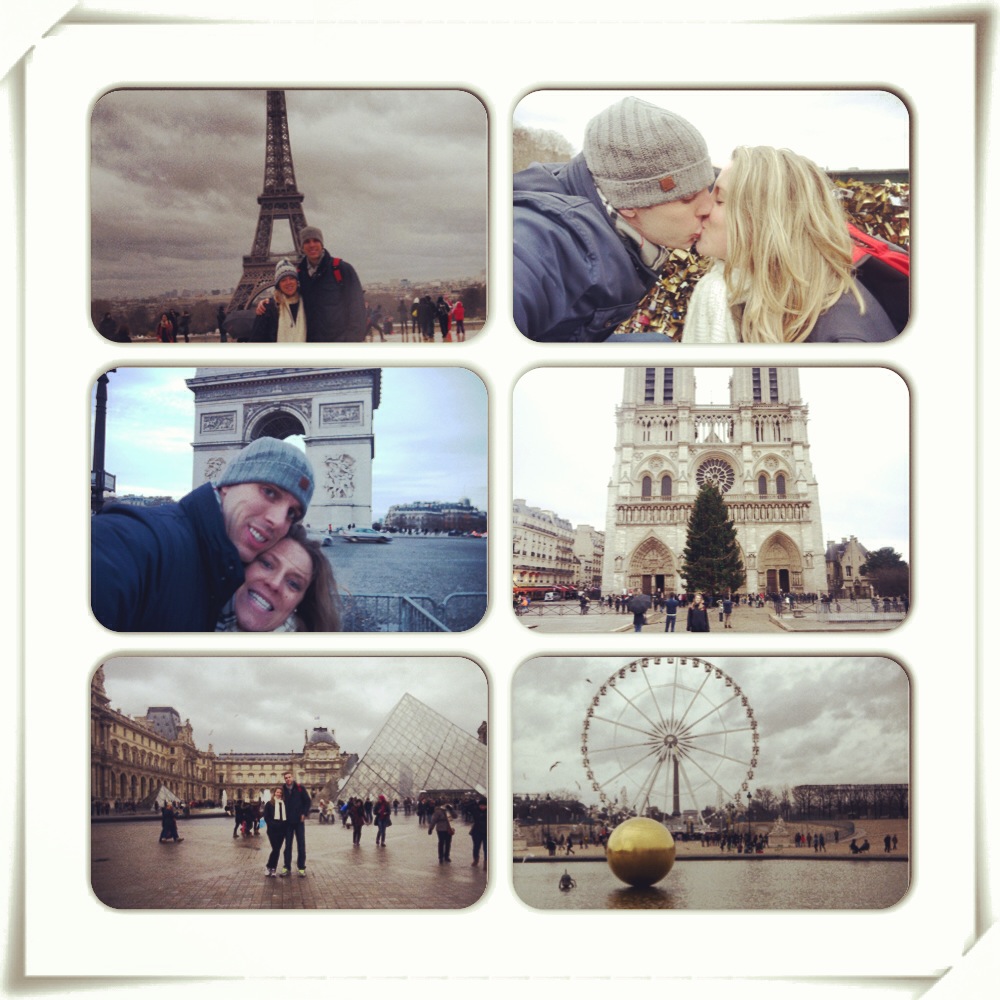 Christmas in Paris?
Yup.
I had no idea we were going until, oh, 5 days before.
That's the spontaneous life we lead surrounding my husband's practice schedule. With a HUGE blessing of 3.5 days off of practice (that rarely – basically never – happens), we seized the opportunity to do a quick getaway to the "City of Love."
Plus, with me nearing the end of 30 weeks and still full of energy, it was a perfect opportunity for a mini "baby moon." Go figure that we ended up sitting next to two young German families on the way there and back, who filled us with advice and even greater anticipation for Baby V. to arrive!
Why Paris? Both Kyle and I have had it near the top of our bucket list for a while now. However, I was a bit skeptical as to how it would top London or Prague, which are two of my favorite major European cities thus far.
Yet, block by block, sight by sight, and meal by meal, this exquisitely beautiful and richly historical city won me (and Kyle) over. It now ranks at the top of my favorite cities, and has me yearning for more French cultural experiences.
Here's how the city warmed my palette and my soul in our two full days there!
Day 1: Typical Tourists
With 55 degrees and mostly clear skies, we headed out by foot to take on Paris. Our hotel was about a mile away from the Notre Dame Cathedral, so we headed there first.
Along the way, we stumbled upon a bio store (a.k.a. "organic"), where I found some… beloved kombucha! Oh, how I've missed this deliciously bubbly, fermented, probiotic-rich drink! I can't seem to find it anywhere in Germany, so you better believe I indulged.
By the time I finished the kombucha, we had arrived at the breathtaking Notre Dame Cathedral. We were totally wowed by the HUGE infrastructure and incredibly ornate inside!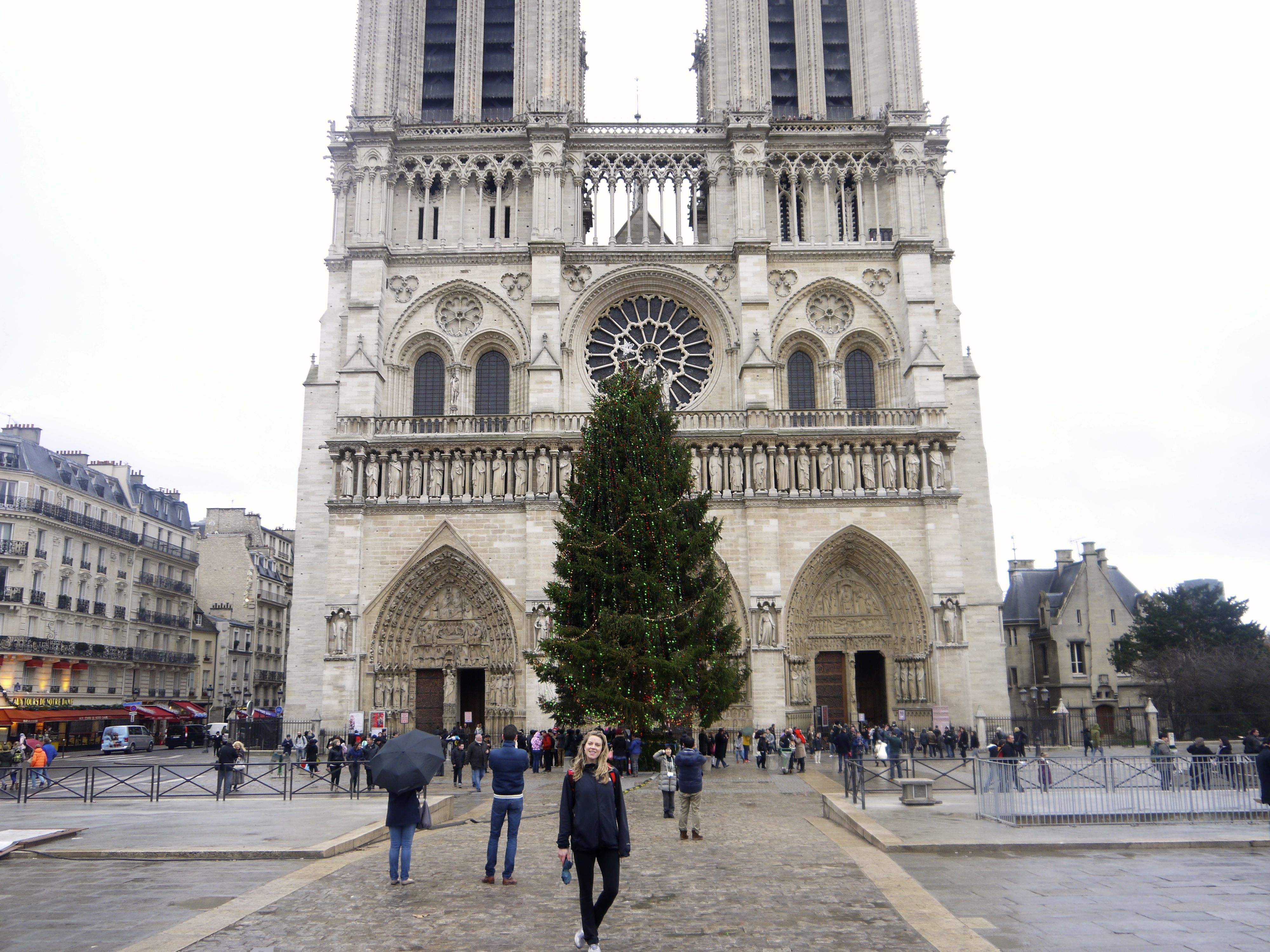 To make it more meaningful, we rented a headset and walked around, listening to the rich history of the cathedral since the 1100's…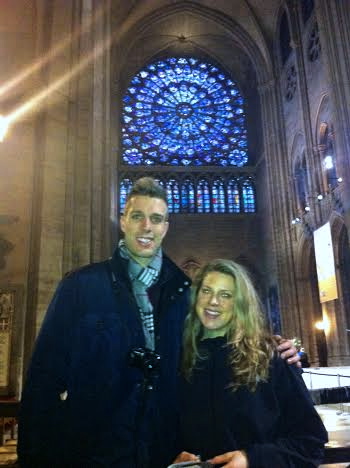 After finishing our tour, we headed towards the famous Louvre.
Along the way, we stumbled upon the Lover's Bridge along the Seine River, loaded with locks in every crevice from lovers all over the world.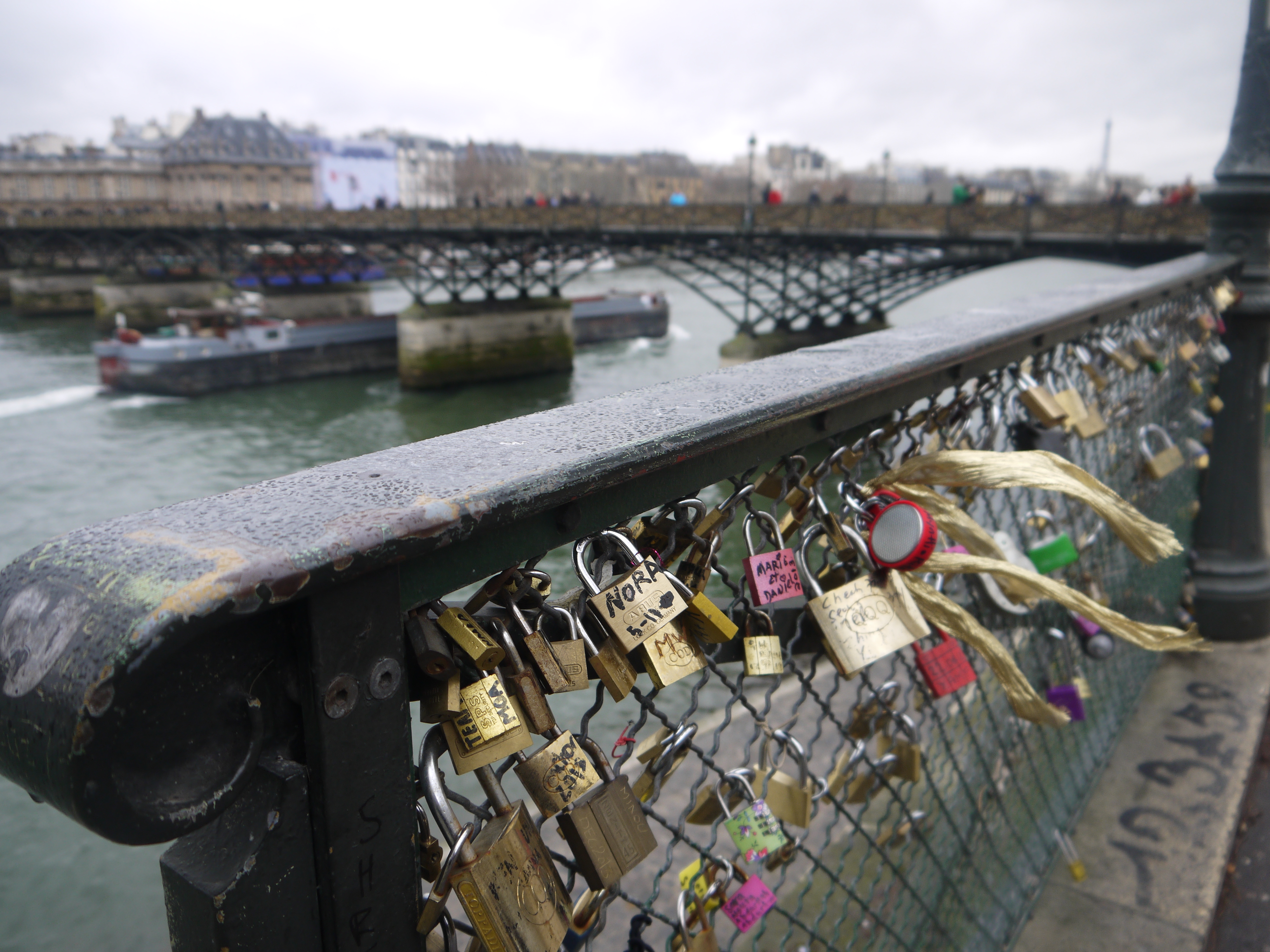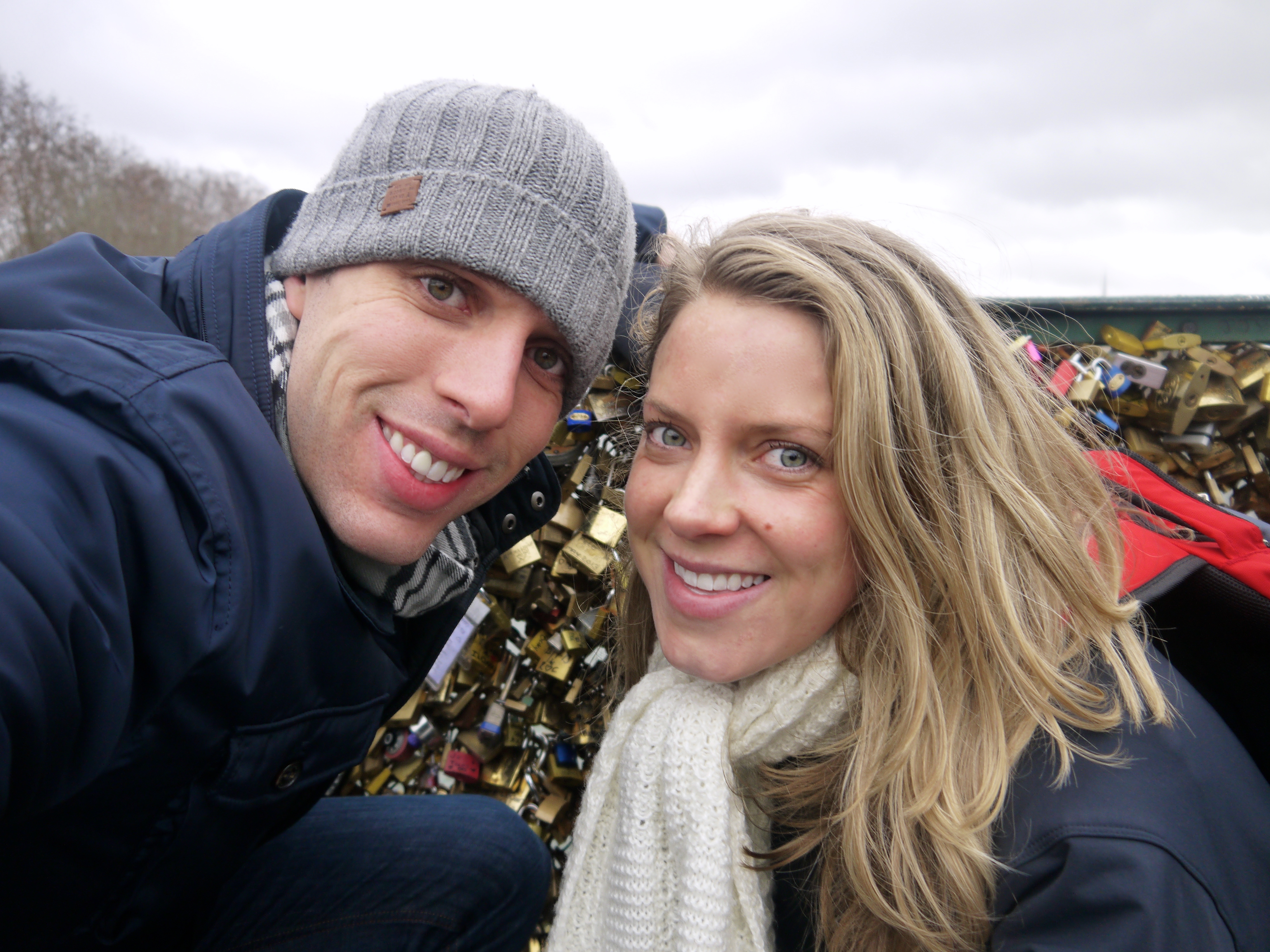 Seriously, one of the most incredible parts to me was just walking the streets of Paris. There is not a sore sight or street to see in that city; every building, every structure is beautiful, uniform, and ornate.
Speaking of ornate, there's a reason the Louvre is the most famous art museum in the world.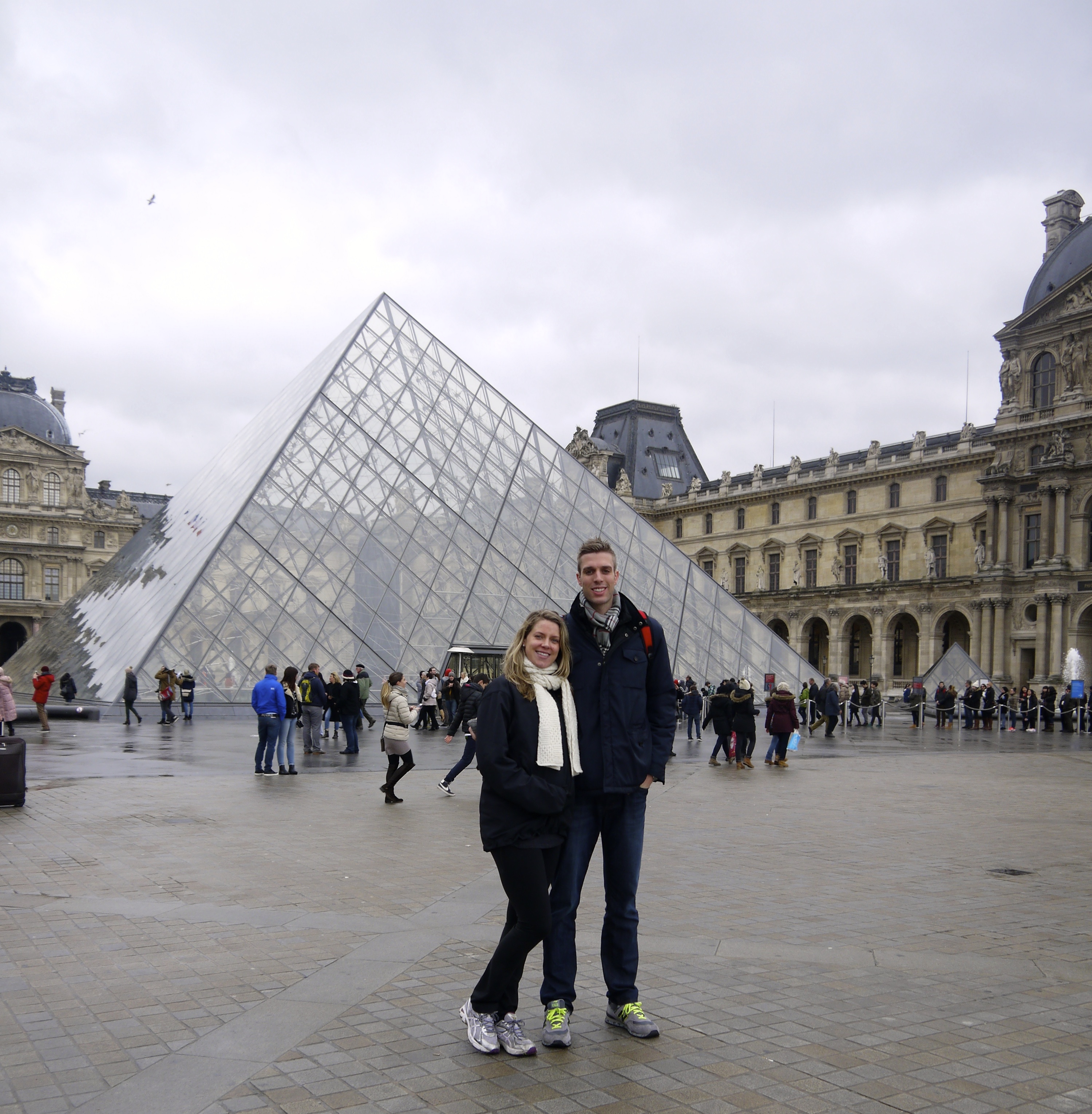 You could get lost in the endless halls of prominent art pieces and sculptures for weeks! We actually stopped for lunch around the corner, and met a young couple from New Zealand and France who had just completed 5 hours in the Louvre. They planned to go back for more that afternoon and following day.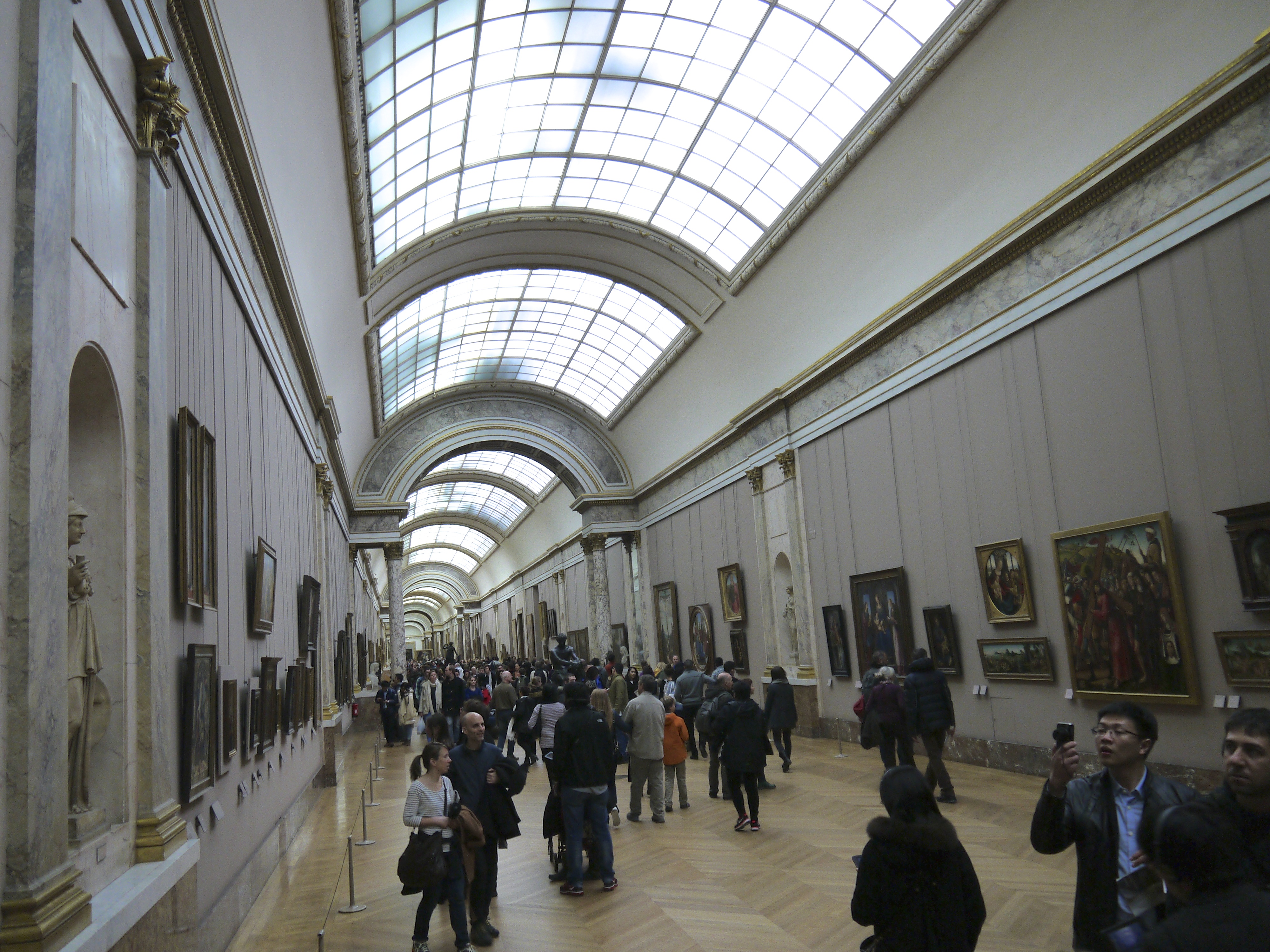 As for us, we only had so much time, so we hit the typical Mona Lisa.
The truth? It was quite underwhelming and small compared the vast array of great works around the corner. Of course, it was crowded with a cultural melting pot of people, and we eventually found our way to the front.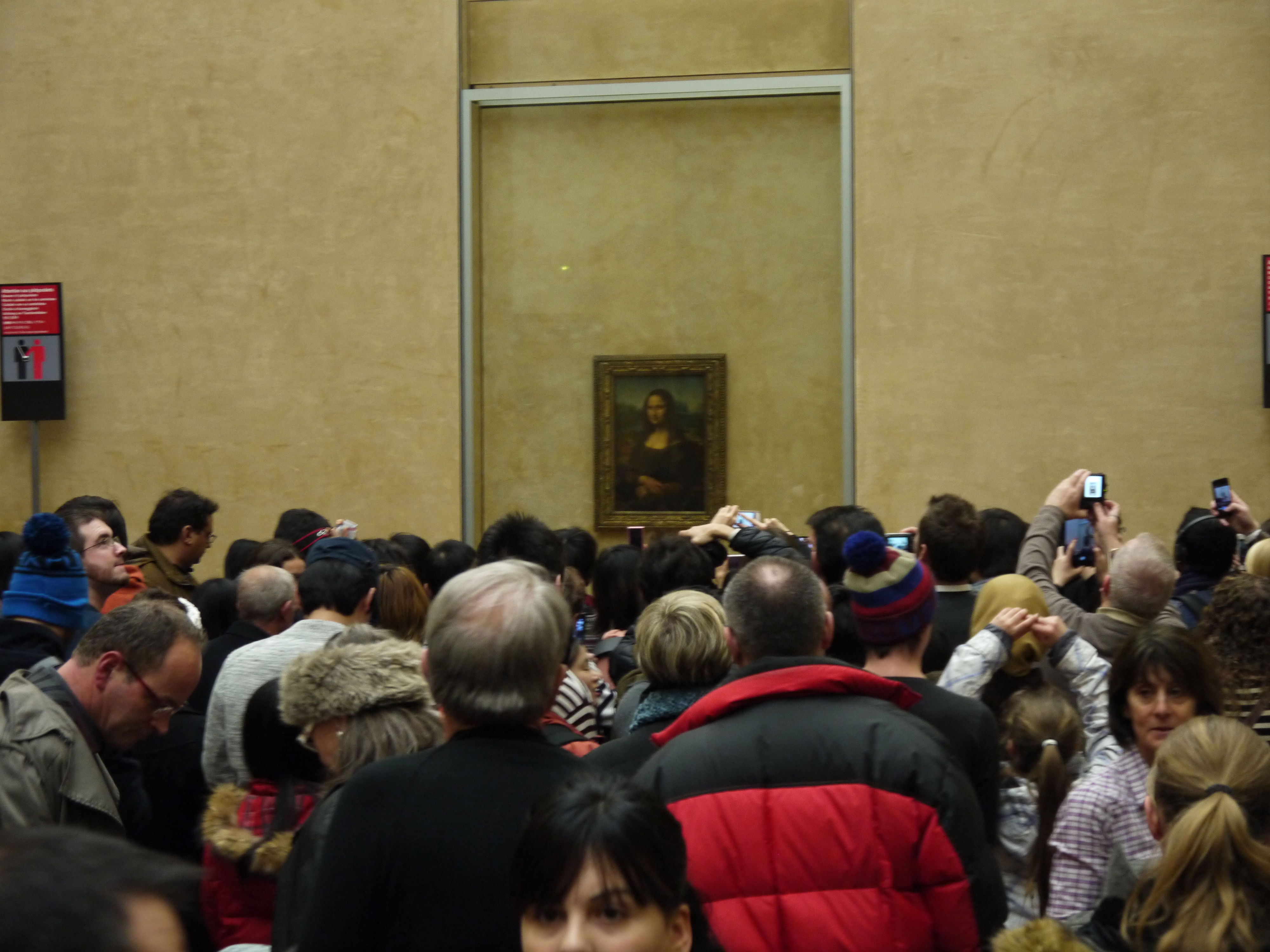 Afterwards, we toured the ridiculously gorgeous surrounding halls for an hour.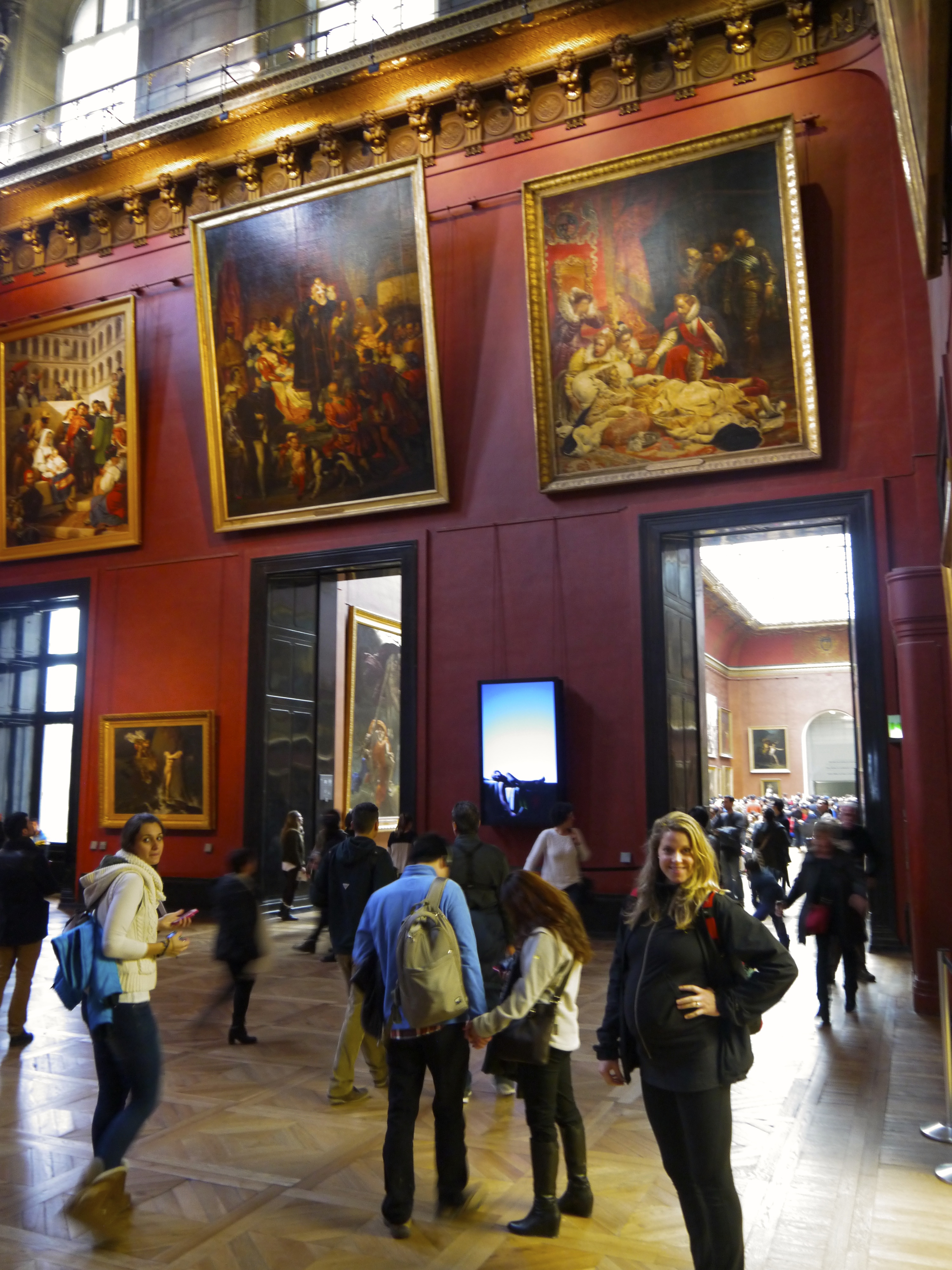 That left us with about an hour of sun (hello, 4 PM sunset!), so we walked through the pristine gardens of the Louvre, eventually ending up at the famous Champs Elysees shopping area.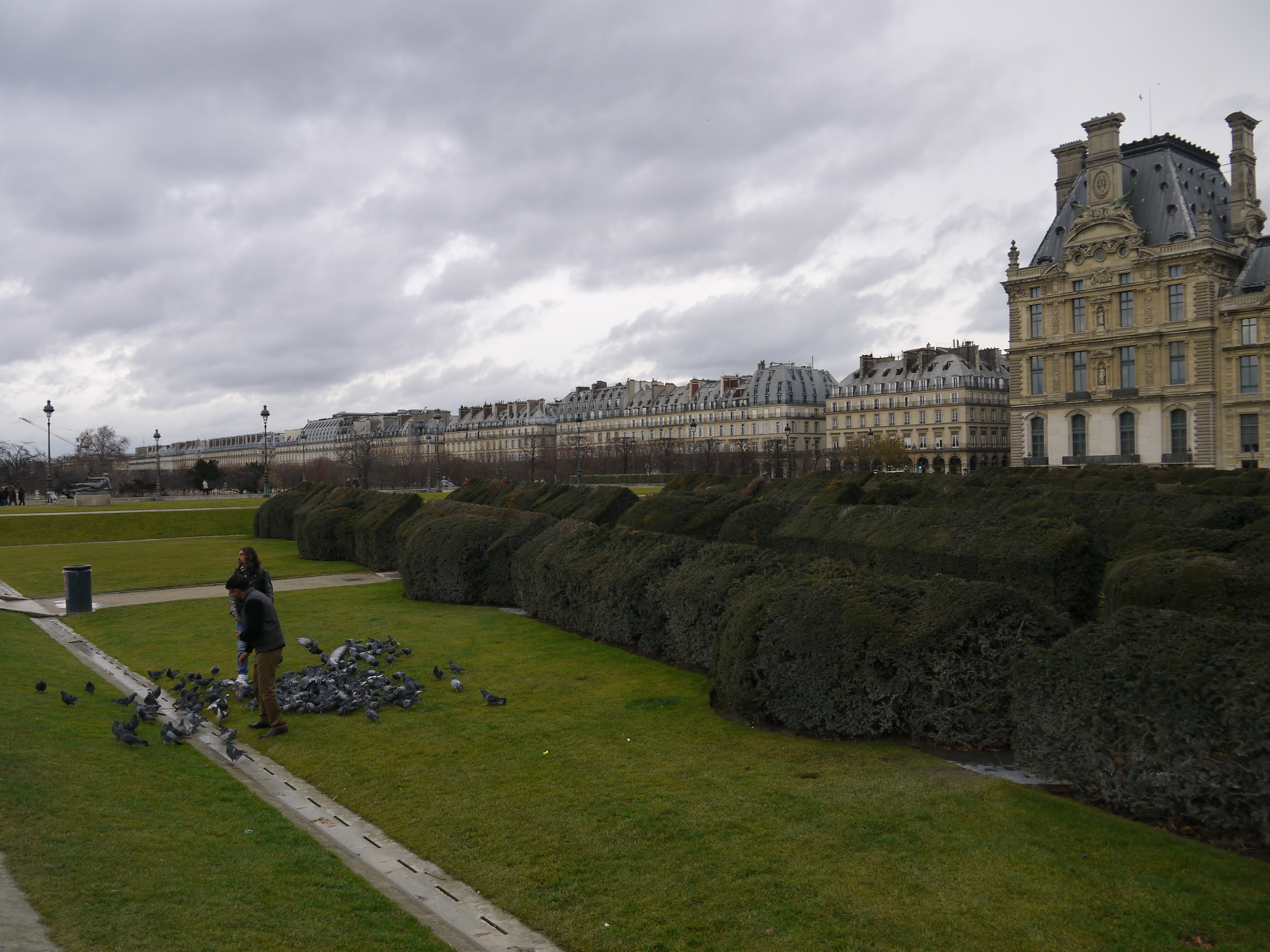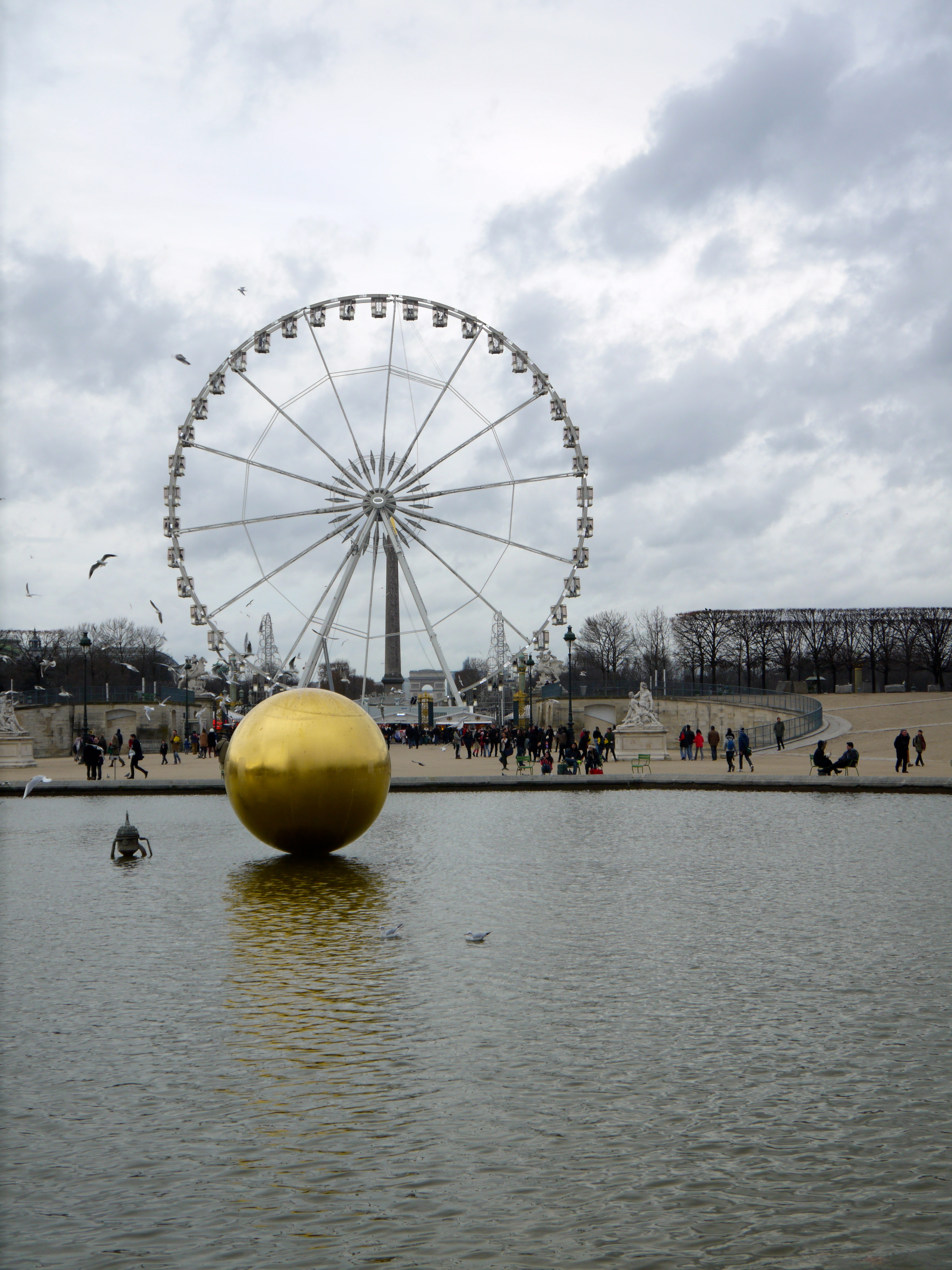 I may or may not have been sucked into a bit of shopping, but kept it short so we could catch the Arc de Triomphe at the end of the street before sunset. What a crazy area with 12 streets all coming together at this central point! The traffic was manic, as you can see…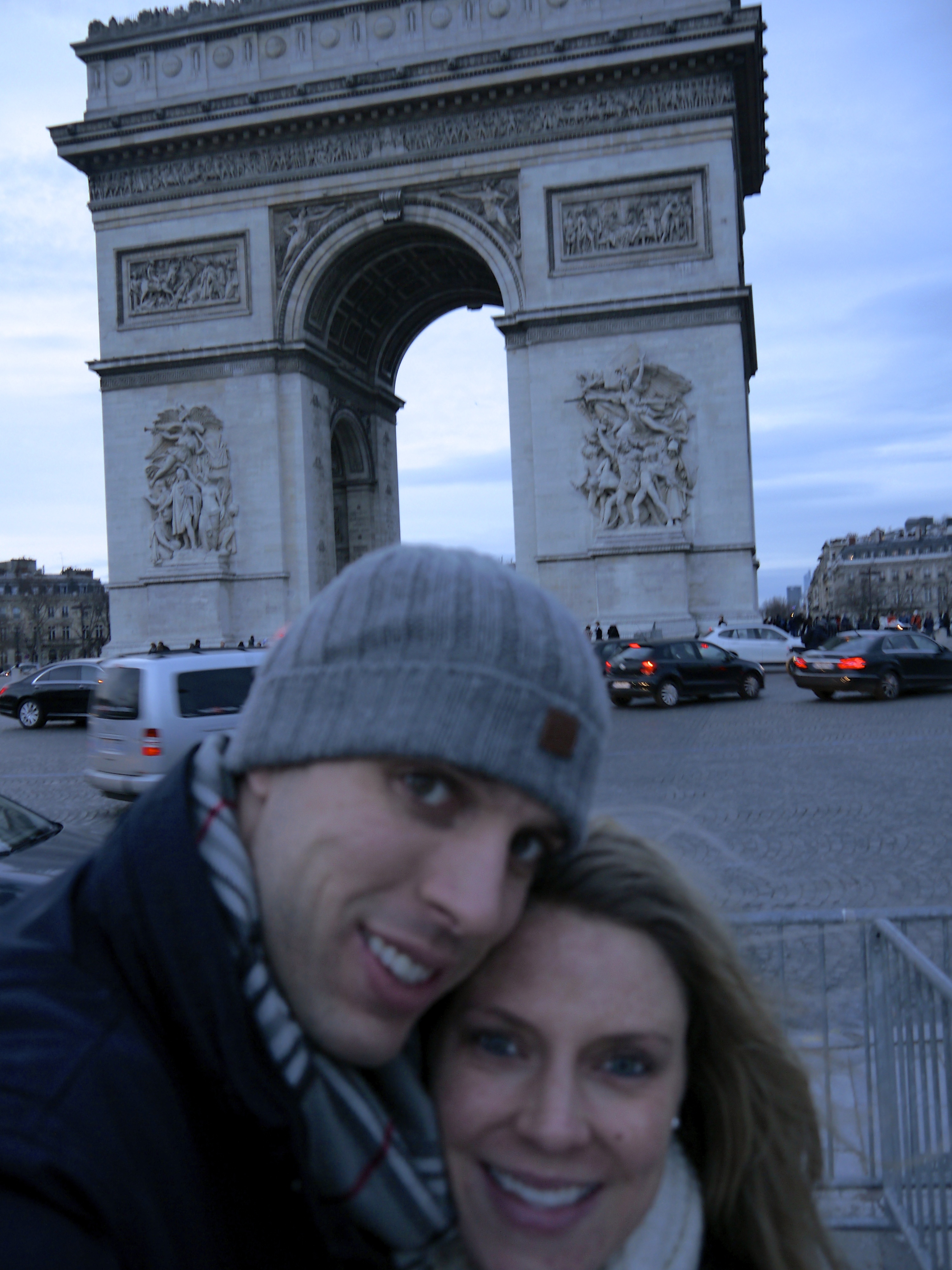 And with 6 hours of walking under our belts, my legs and body were barking! It was so worth it to cram in the sights, but had I been further along in my pregnancy, I seriously might have gone into spontaneous labor.
We took the metro back to our hotel, and scoped out a sweet bar/restaurant within walking distance that was hopping with local Parisians.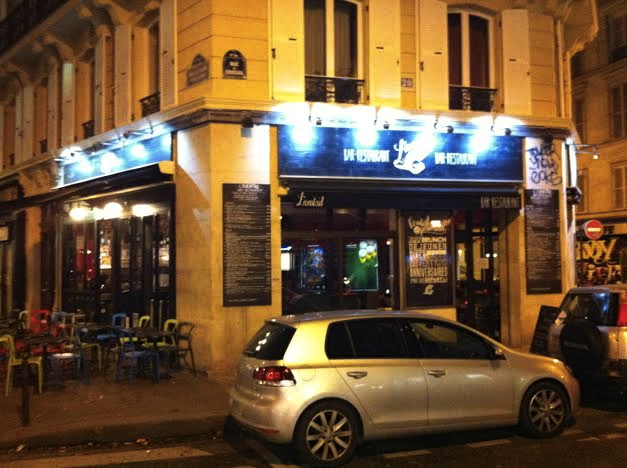 We split a salad with greens, avocado, ham and olives, and I ordered baked cod with a side of quinoa and vegetables for my main course. Delish!
Overall, the local Parisian food scene did not disappoint. Of course, there were the typical places that screamed fast food and/or tourist food, but I found consistent menu items amongst the quality local restaurants we found:
Farm fresh roasted chicken
French onion soup (of course!)
Foie gras (so sad I couldn't eat it!), bone marrow, and other organ meats
Eggs under the "snack" section (how awesome is that?!)
Side salads common with many meals
Large salads with Mediterranean-type toppings (avocado, cheeses, olives, etc.)
Charcuterie platters full of amazing cheeses and meats
Fish was common on most menus (salmon, sardines, and cod especially)
Raw meats (escargot, tuna and beef tartar, foie gras, etc.)
French fries as a side with many meals (ahem, that's why they're called FRENCH fries! Bad joke, I know)…
I noticed many of the locals were drinking wine with their lunch and/or dinner
No wonder the French are so healthy eating these incredible, nutrient dense foods loaded with healthy, anti-inflammatory fats, vitamins, and minerals on a regular basis!
In fact, I spoke with an adorable French woman in her 8th month of pregnancy, and she said despite the common food recommendations to avoid during pregnancy, she eats foie gras and soft cheeses on a regular basis. She hardly looked pregnant and was a picture of health. In other news, I've got liver on our menu this week… 🙂
Day 2: Living Like a Parisian 
After our extensive day of typical tourism, we finished what we started the following morning (on Christmas Eve)  with the Eiffel Tower. There happened to be winds upwards of 140 km/hour on top of the Eiffel Tower, so we opted to see it by walking underneath and around it. What a monstrous work of art! As we walked around the adjacent streets, it was cool to look out and see it at all different angles.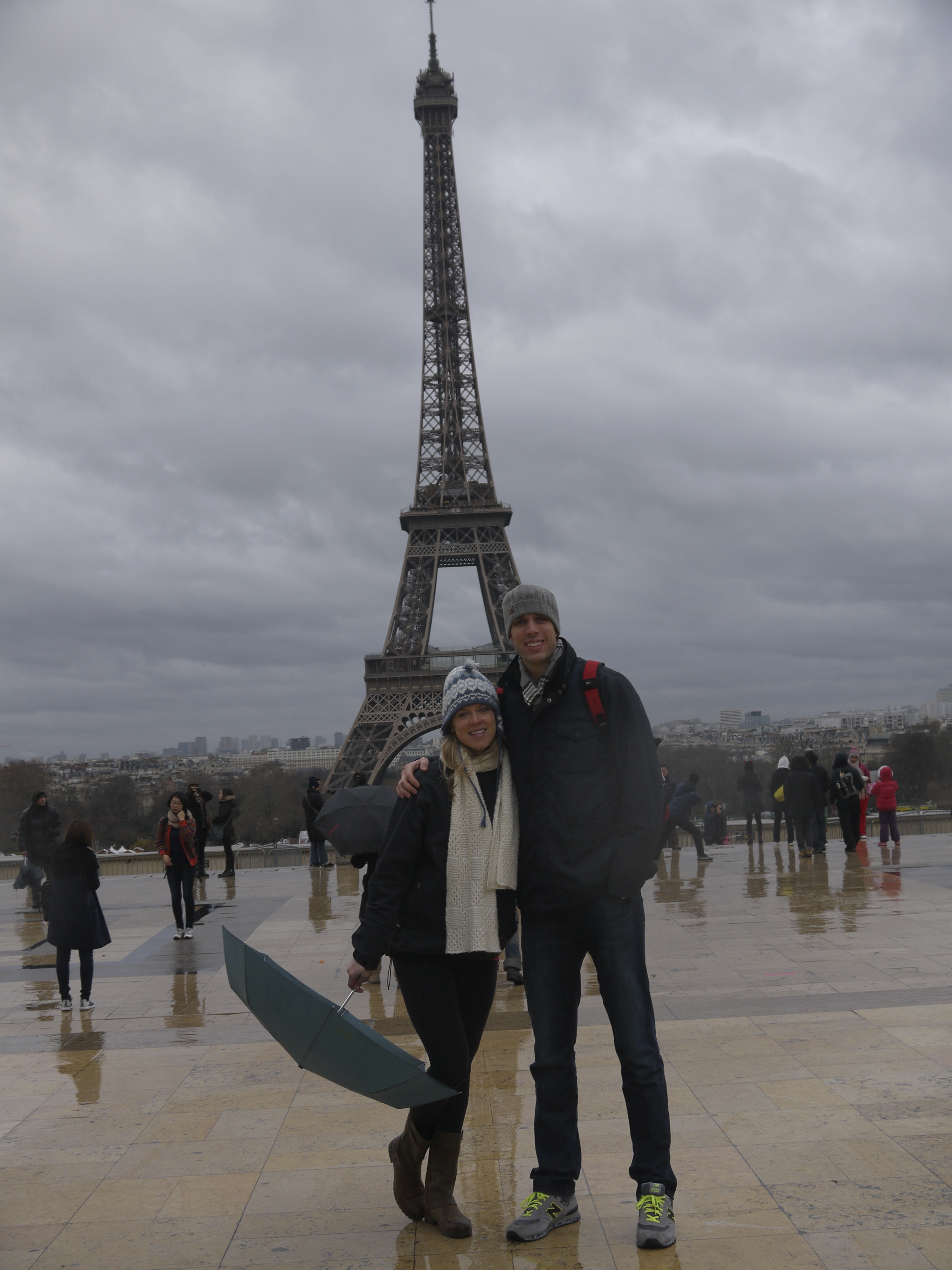 And with that off our list, we decided to slow down a bit and immerse ourselves in Parisian culture.
I had read about a quaint little street called Rue de Cler that enticed me, so we found it just a few blocks away from the Eiffel Tower.
The street was absolutely darling, and bustling with people running last minute errands for their Christmas Eve dinners. It was a much welcomed contrast to the tourist sections we had visited, and gave me such an appreciation for true life in Paris.
Rue de Cler, indeed, had shop after shop of local chocolatiers, markets, cheese mongers, cake shops, etc.
One of the first shops we happened upon around the corner was a cake shop. There were about 20 locals lined up outside, anxiously waiting to purchase these perfectly crafted, buttery, creamy cakes for Christmas. We were in awe, and watched from the window as the cake makers went about their work. A local couple saw us gawking in the window and explained the cakes were made with macaroon-like filling, and a buttery-cream frosting with chocolate shavings on top. Did we want a small sample to try, the woman asked? Um YES. How could we not, especially on Christmas Eve? She ended up gifting us with these sweet collection of samples… how sweet was that?!
We continued on, stopping at most of the local shops, until we got sucked into a well-known chocolatier, Francois Pralus. This organic dark chocolate tower of African-sourced cacao was too enticing to pass up, and it's a good thing we didn't. We're three bars in and loving every bite!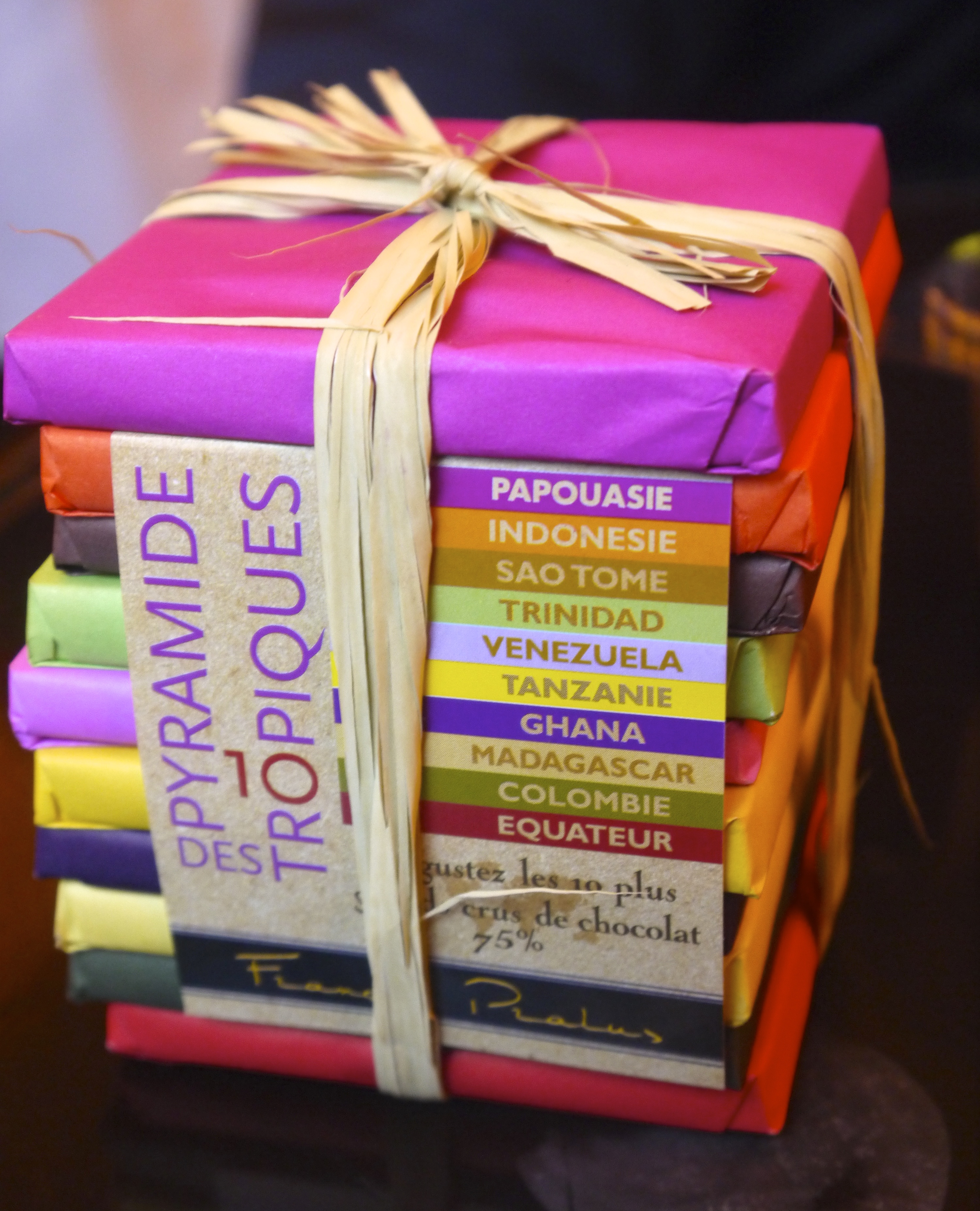 The rest of our day involved a long, leisurely lunch on Rue de Cler, which included our first time EVER eating beef bone marrow. I wasn't a huge fan of the slimy, fatty marrow, but gulped it down for nutrition's sake.
Kyle loved it, and two French women in their 60's at an adjacent table nodded approvingly with wide eyes… I'm sure it's one of the first times they've seen American tourists under 30 years ordering bone marrow? 🙂
We also sauntered over to the beautiful Alexandre Bridge and back to the Champs Elysees, where we caught an evening showing of Hunger Games II.
Our perfect end of the day ended with a not-so-conventional Christmas Eve, but will forever be one of my favorite Christmas Eve memories.
Naturally, you'd think we would have found a luxurious restaurant for a romantic Christmas Eve dinner in Paris, right?  Well, not so much…
We got back to the hotel around 8 PM, and literally begged a shop down the street to let us in to purchase some snacks for our travels back the next morning. Yes, I did use the pregnant belly (as I did in the bathroom line at the Louvre)!
We then decided to do a quick 20-minute workout prior to heading out to eat at a place we had spotted prior. Unfortunately, being Christmas Eve, it was closed. We walked around for 30 minutes, and even sat down in two separate restaurants to look at the menu. Of course, the only restaurants open were typical tourist restaurants, and we just weren't satisfied with cheeseburgers and fries.
So, what did we do?
We retreated back to our hotel room, and used those snacks we bought earlier to make a progressive dinner menu of:
Sliced pear
"Guacamole" (smashed avocado with squeezed lemon in a hotel glass) with cucumber slices and baby carrots (cut with a  plastic knife)
Organic ham slices on rice crackers
Parsnip, beet, and carrot chips
Dark chocolate with nuts
Coconut banana milkshake (smashed banana with coconut milk from a can in a hotel glass)
As we ate our homemade buffet on Christmas Eve, we watched Love Actually in our pajamas while the rain fell outside in the streets of Paris. Hey, it was a far cry from eating cheeseburgers and fries at a fluorescent-signed tourist restaurant, right?
And thus concluded our mini "baby moon" of adventures in Paris. Despite our less than textbook dinner, it was a pretty perfect ending in my book. <3