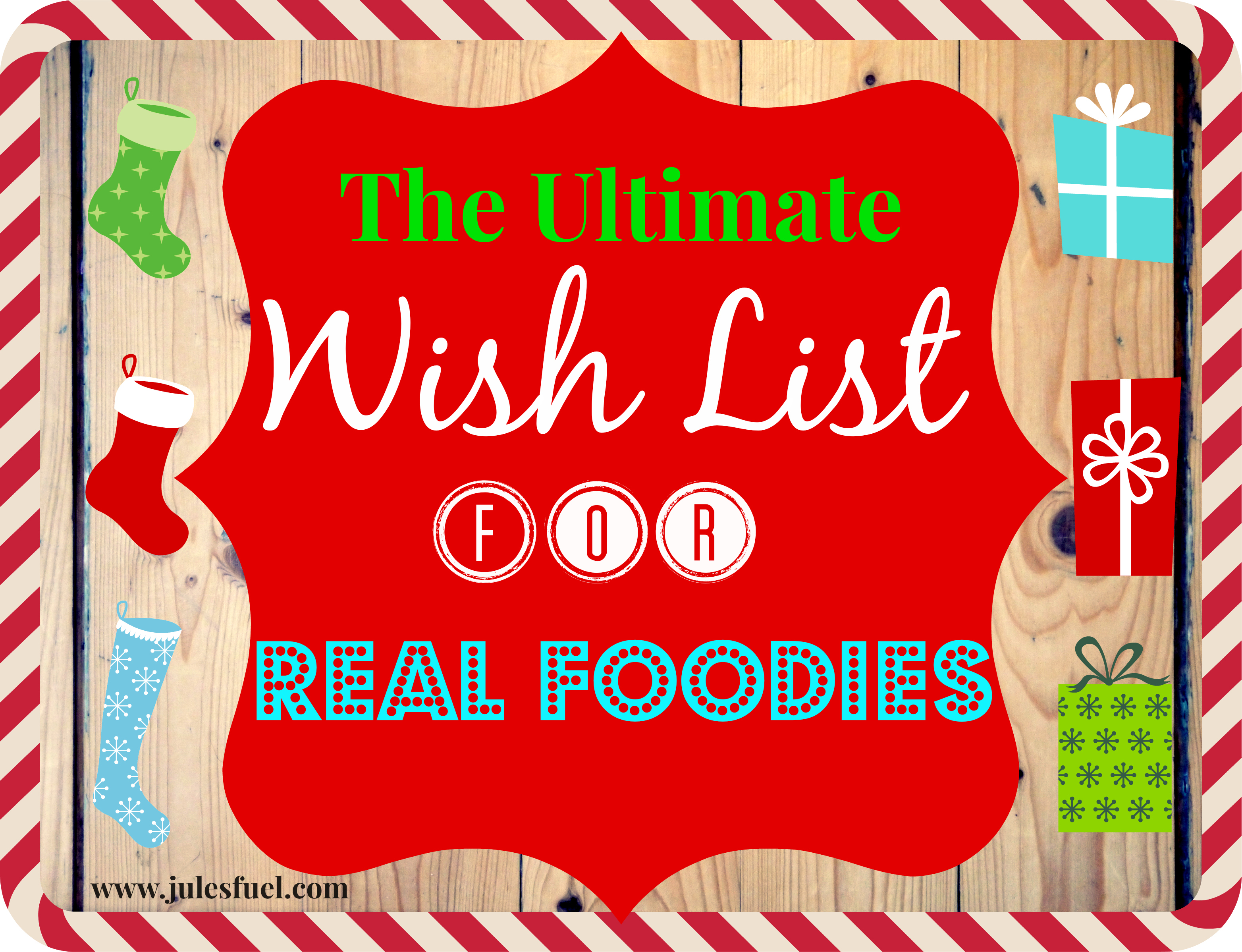 Are you aware that we are just FIVE weeks away from Christmas?
My brain can hardly comprehend it! Then again, it's starting to get a little more real thanks to our transplanted Charlie Brown Christmas Tree that Kyle plucked from the mountains this past week. It's cute, isn't it?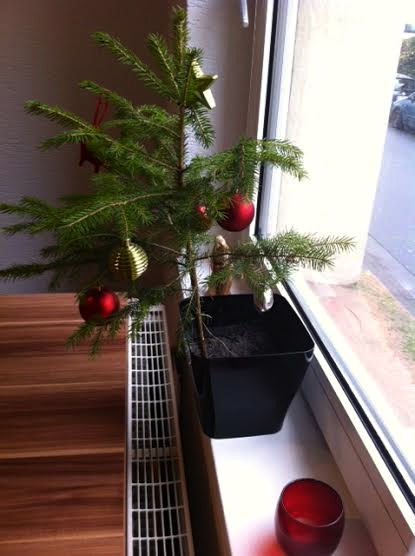 Meanwhile, the big question looms: Have you finished your Christmas shopping yet?
For all the procrastinators out there, including myself, here's a VERY comprehensive list of ideas for all your real foodie friends and family members. This list also may or may not include some items on my wish list this year (cough cough)! 🙂
Happy shopping!
The Ultimate Real Foodie Wish List
I just bought a mandolin two weeks ago, and I will never go without one again! I use it ALL the time to slice veggie omelets, to make salads in just minutes, and best of all, to make BEET and SWEET POTATO CHIPS like these. Only, they are much thinner and crispier like actual chips. 🙂 This one has 3 different sizes for thickness, is stainless steel (yay!), is super easy to clean, and it's inexpensive!
See it in action here.
For those choosing a gluten-free lifestyle, pasta is one food group that is hard to replicate. This inexpensive spiralizer is the missing link to making your own vegetable "pasta," or even just beautiful vegetable ribbons for salads.
See it in action here.
3. Vitamix
Since getting our Vitamix one year ago, life has never been the same. Who knew you could whip up hummus, guacamole, nut butter, nut flours, and even SOUP in just minutes? Seriously, the ease of use, diminished time, ease of cleaning, AND less space needed in the kitchen for storage is amazing. After all, this is basically does the job of 10 different kitchen appliances in one. It's a:
Food processor
Cake mixer
Nut grinder
Juicer
Blender
Soup maker
Baby food maker
We're going to use ours to make baby food, too. Its 7-year warranty proves it's a kitchen beast, and if you buy yours from Bed, Bath, and Beyond like we did, you're basically guaranteed a lifetime warranty. Because it's a lot of money to spend on someone, you can always clump it with a birthday, wedding, and/or baby gift. (We're doing that this year. Shhhh).
See it in action here.
Have you heard of the "Cheese Queen," a.k.a. Ricki Carroll? I first read about her in one of my absolute favorite books, Animal, Vegetable, Miracle: A Year of Food Life by Barbara Kingsolver. Her cheese kit comes with everything you need, simple instructions, and 8 different kinds of cheese to make. It doesn't get more natural than that! 

See it in action here.
5. Crockpot

For the busy, overworked, multi-tasking folks, cooking doesn't get more efficient than with a crockpot. They're inexpensive, easy to clean, and work wonders while you're away. I often use ours to make bone broth or a quick meal that cooks throughout the day, filling our home with organic aromas by evening.
This particular model is similar to the one we have, where the inside can be removed (with the top in place) to takeaway. It's super convenient for bringing food over to a friend or family member's home!
Plastic is no bueno when it comes to a chemical-free home. Whether we like it or not, plastic can leach into our food, introducing endocrine-disrupting hormones like Bisphenol-A (BPA). We own this Pyrex set that is super reasonable in price and super durable. Plus, you can bake with the dishes, and then pop the top on later as storage. A win-win.
In removing 99.9% of bacterias and viruses and contaminants like lead and chlorine, the Royal Berkey is the "world leader in portable water purification." I WILL buy this beauty for our future home, if it isn't given to me as a gift! 🙂
For all your FAQs, click here. See it in action here.
I'm obsessed with this store and its uniquely beautiful kitchenware! These bowls are so sweet for those in a new home, new kitchen, or simply to add to a bowl collection.
We have an automatic tea kettle in our apartment here in Germany, and it is SO convenient. It boils the water faster than I can get my tea mug out, and is perfect for tea time (or instant coffee time)! Kyle also uses it to make gluten-free oats, and we also use it for cleaning purposes.
10. Tea Ball
While we're on the topic of tea, this stainless steel mesh tea ball is less than $3 and perfect for the avid tea drinker that loves looseleaf tea!
11. Organic Tea Set
There's a reason this was the #1 selling holiday gift item on Amazon.com grocery in 2010! It includes a 16 oz. glass teapot, hand sewn tea leaves & flowers that blossom when steeped, and it's made with organic tea and 100% ingredients.
Whether for you or for your children, this non-toxic, stainless steel, eco-friendly lunch box is super convenient, cleanable, and long lasting. This one's on my radar for our baby on the way!
What foodie doesn't love a huge stockpot? I own this stainless steel stock pot and use it often for brewing large batches of bone broth and making delicious soups and stews.
14. Ice Cream Maker 
This past summer, SO many easy and healthy ice cream recipes passed me by because, regrettably, I don't own an ice cream maker. This ice cream maker is so reasonably priced, that I can't afford not to invest. Think of all the soft serves, sorbets, and (coconut) ice creams you can make (and save on)!
See it in action here.
15. Popsicle Holders
Speaking of cold treats, these BPA-free popsicle holders are a great way to make your own popsicles and/or frozen smoothies.
16. Food Dehydrator
A dehydrator is a perfect tool for making dried fruits, dried vegetable chips, and your own jerky! Many of these specialty items are expensive and loaded with preservatives, so it's a great way to cut costs and improve nutrition.
See it in action here.
These are the perfect stocking stuffer at less than $3! These stainless steel straws are washable, safe, non-toxic, and unbreakable.
18. Trader Joe's Breakfast Gift Basket 
Trader Joe's "Top of the Morning" Gift Basket comes with a different selection of popular Muesli, pancake mixes, syrups and a selection of butters & pastries. Mmmm!
:::
Did I miss any? What are you buying for your real foodie friends this Christmas?