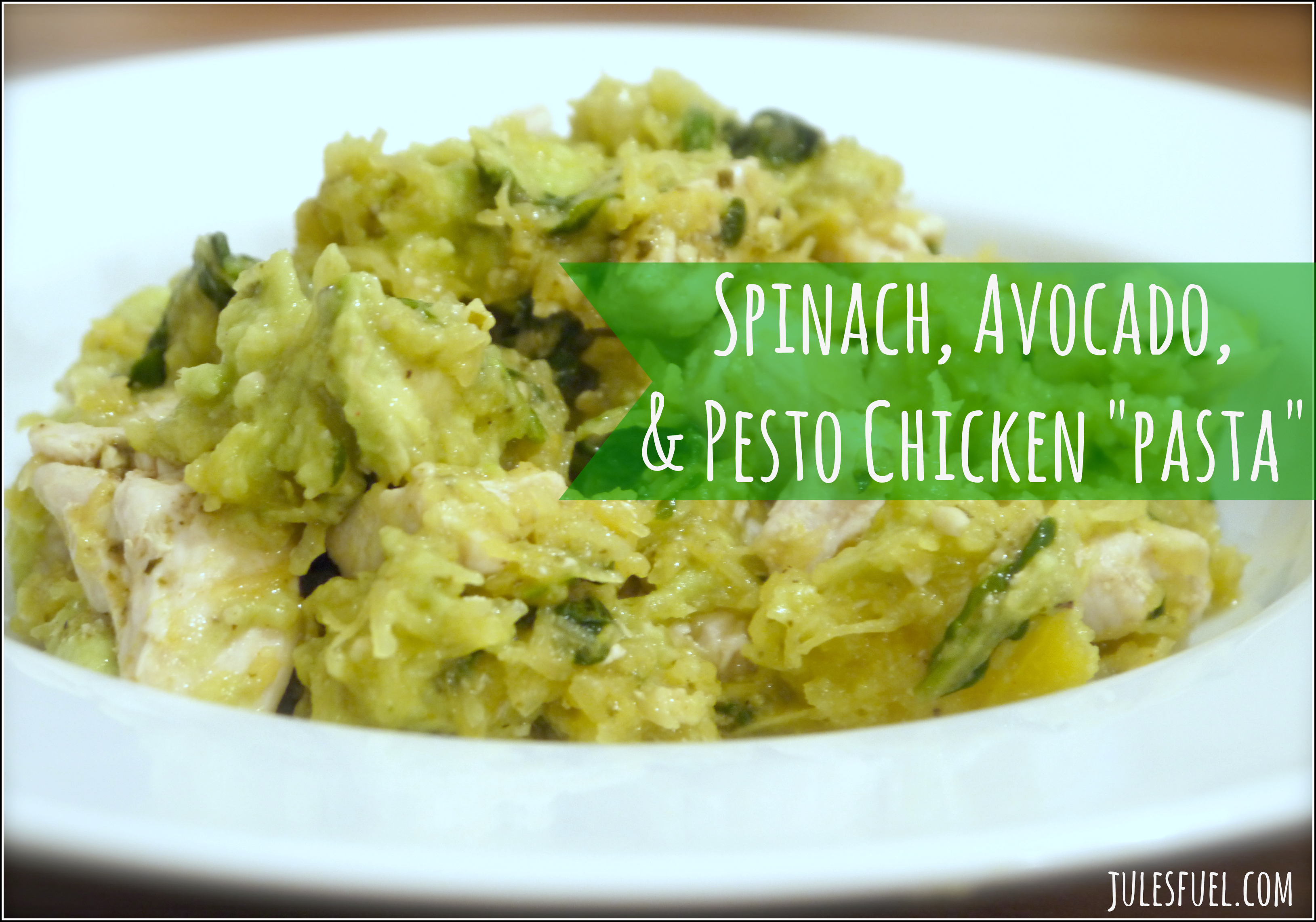 Born out of desperation for something – anything – out of our ordinary meal routine, this was a HOME RUN.
It"s pretty much the perfect balance of:
Antioxidant-rich vegetables: Spinach & onion
Anti-inflammatory Mediterranean fats: Avocado & extra virgin olive oil in the pesto
Nutrient-dense starch: Spaghetti squash (MUCH more nutritious than pasta!)
Muscle-building protein: Chicken!
In fact, it just so happens that we ate this the night before hubby's game. Perfect, blood sugar-balancing athlete fuel (much better than blood sugar-spiking pasta!).
Another awesome benefit to this meal? For those that struggle with eating vegetables or feeding them to spouses and/or children, this is pretty much a no-fail way to disguise them. 🙂
Spinach, Avocado, & Pesto Chicken "Pasta"
Ingredients
1 large spaghetti squash
1 large onion
2 cups of spinach
3 large chicken breasts
2 avocados
1 small jar of pesto (make sure it has extra virgin olive oil like this one!)
Salt, pepper, and garlic powder to taste
2 tbsp (grass-fed) butter
Instructions
Bake the spaghetti squash at 350 degrees for 50 minutes, or until a fork can easily slice through the outer shell. To do so, slice the spaghetti squash length-wise, and scoop out the seeds. Place both halves face-down in a glass pan, fill with about 1/4 inch of water, and bake.
Once the spaghetti squash is finished, scoop out the flesh and place in a large bowl.
Meanwhile, in a large pan, chop and sauté onions on medium.
Chop up chicken into small pieces, and cook in the large pan with the onions.
Right before the chicken is fully cooked, add in spinach and cook for about 3 – 5 minutes.
Add the onion, spinach, and chicken mixture to the large bowl with spaghetti squash.
In a separate small bowl, blend the flesh of both avocados. Then, evenly mix the mashed avocado into the large bowl with chicken, spinach, onions, and spaghetti squash.
Add the small jar of pesto and mix evenly into the large bowl as well.
Finally, add in sea salt, pepper, and garlic powder to taste.
Enjoy this scrumptious Mediterranean dish!
:::
Do you love this post? Share and find me here for more:
:::
Note: Jules' Fuel uses affiliate links in some blog posts. Every time you make a purchase using one of these links (which costs the same either way), it's a very, very small way to help me cover the cost of running this website. I appreciate your support!