When it's fall and there's a birthday, it's inevitable that apples will be called upon in some form or another to celebrate. Especially when there are abundant local varieties all over the markets!
After buying these ginormous, organic beauties at our local German market last week, I couldn't decide on a pie or a crisp for my gluten-sensitive husband. So, I made a grain-free hybrid of both!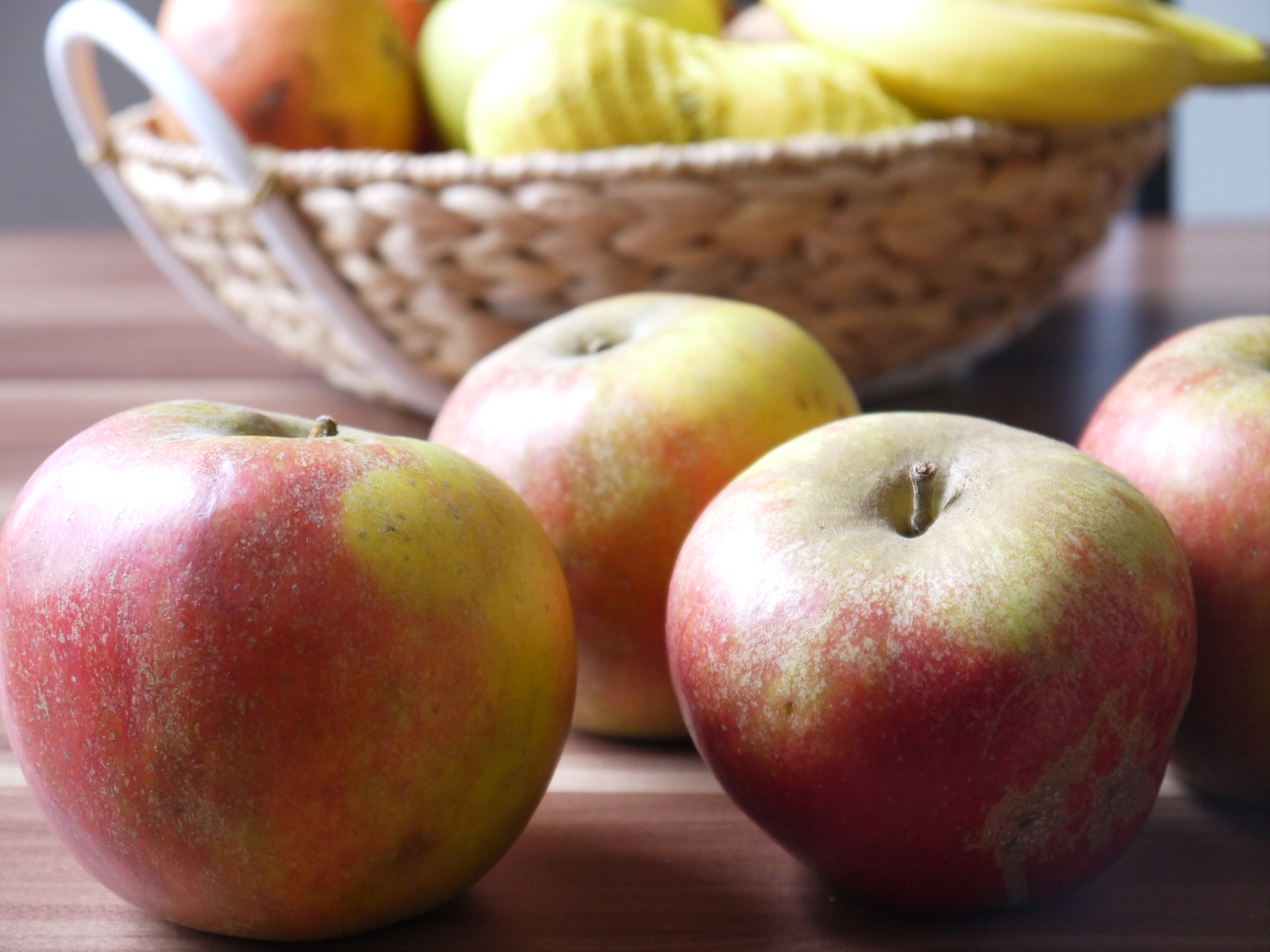 The result? Kyle ate one-third of it. I think that speaks for itself?! 🙂 We enjoyed the remainder with some of our German friends, who are notoriously used to German breads and flours. Their sweet 2-year-old boy devoured it, and they loved it as well.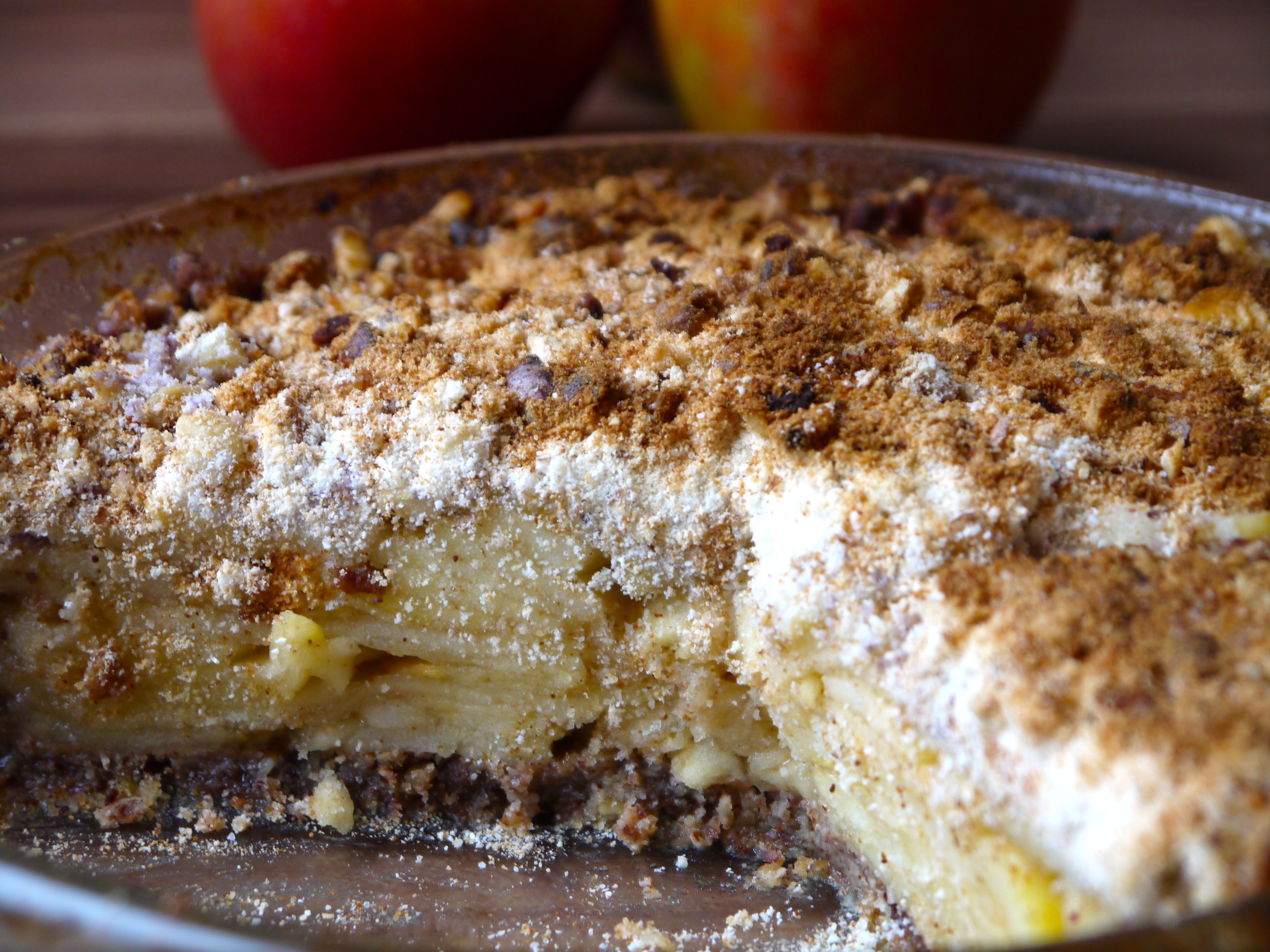 The savory crust especially received rave reviews, which was inspired by a recipe on Elana's Pantry, and the crisp topping adds another texture and dimension to the delicious layer of baked apples below.
Savor this warm, comforting, grain-free apple pie crisp with your loved ones, and add your choice of ice cream (dairy-free or not), if you so desire!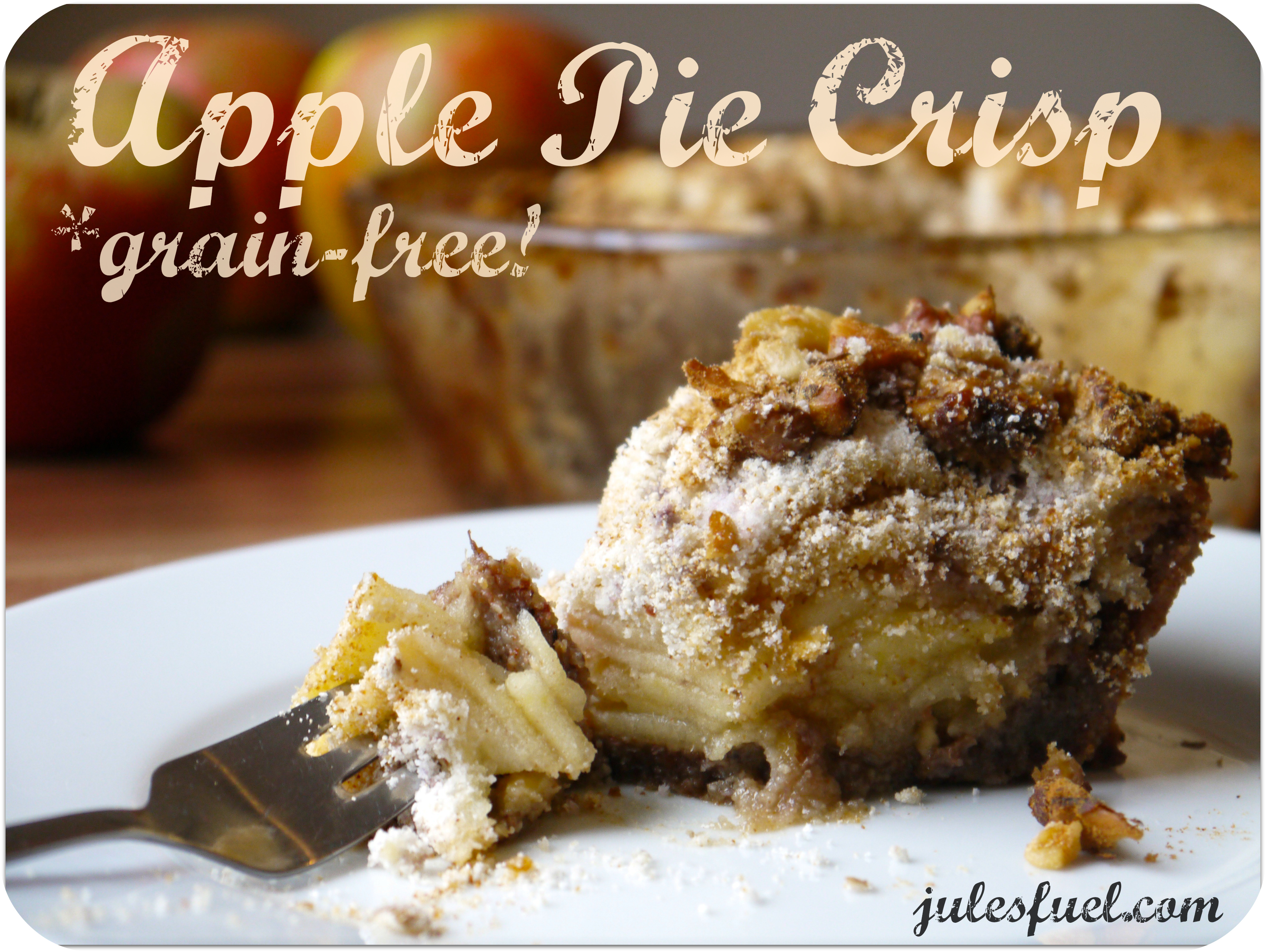 Ingredients

2 cups of almond flour (like this)
1 egg
1/4 tsp sea salt
2 tbsp coconut oil (like this)
Instructions
1. In a food processor or bowl, briefly mix almond flour and salt.
2. Add in coconut oil and egg and mix until a ball is formed.
3. Press dough into a pie dish. Note: My pie dish was larger than the standard 9″ size, so my crust didn't extend as far up the sides.
4. Bake at 350 degrees for 8-12 minutes.
Apple Pie Filling
Ingredients 
5 medium apples (or 3 extra large apples like I used)
1 tbsp vanilla
2 tbsp lemon juice
2 tbsp butter
1 tbsp cinnamon
1/8 tsp cloves
1 tsp nutmeg
1/4 tsp sea salt
Instructions
1. Peel apples, core, and slice into thin strips.
2. In a large bowl, add sliced apples and the rest of the ingredients. Use your hands or a large spoon to mix the ingredients delicately and well.
3. Place the apple pie filling evenly into the pie crust.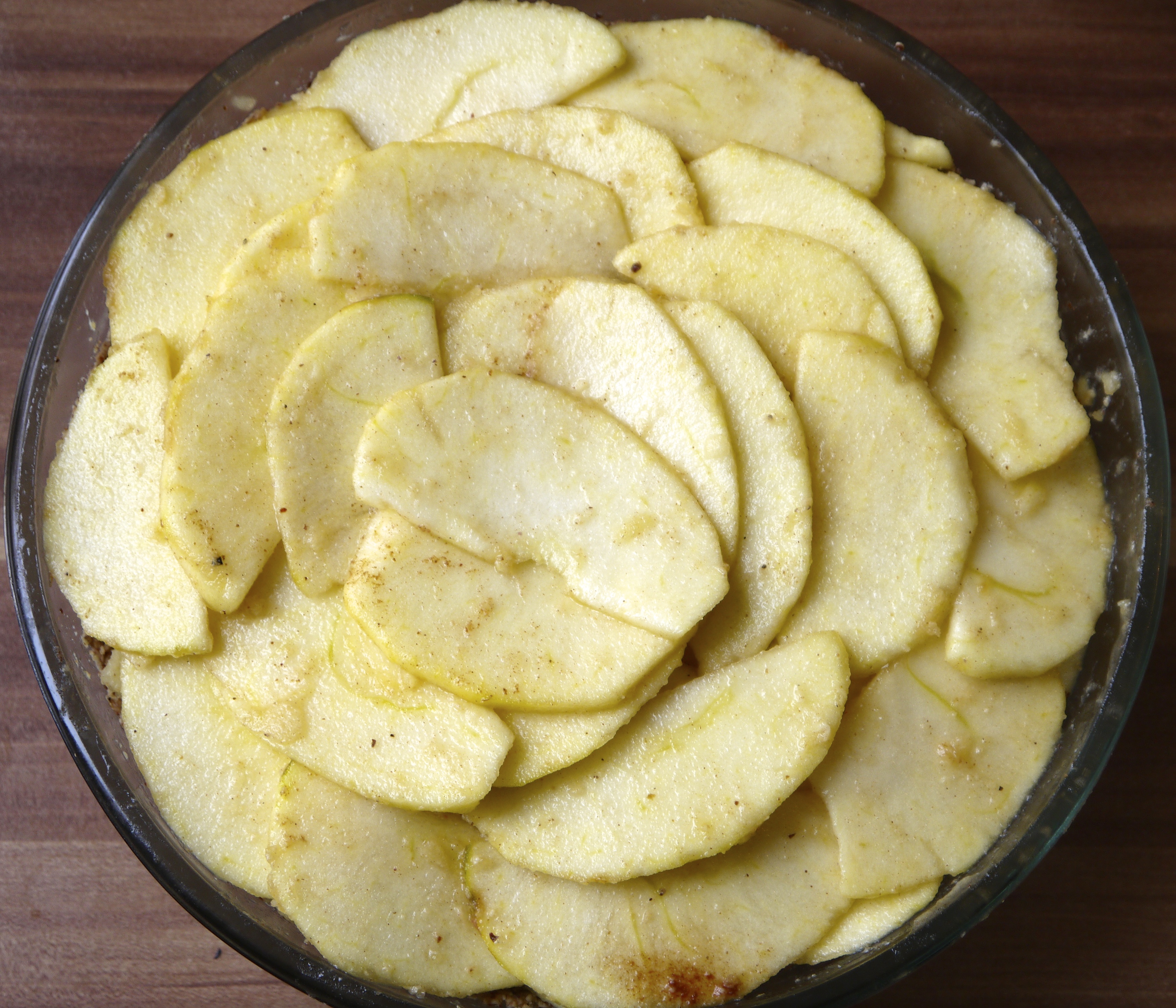 Crisp Topping
Ingredients 
1 cup crushed walnuts
1/4 cup coconut flour (like this)
1 tbsp honey
Dash of cinnamon
Instructions
1. Use a food processor or a mortar and pestle to crush walnuts.
2. In a bowl, evenly mix the crushed walnuts, coconut flour, and cinnamon.
3. Spread this mixture evenly on top of the apple pie filling.
4. Drizzle honey on top.
5. Bake pie at 350 degrees for 1 hour! Enjoy!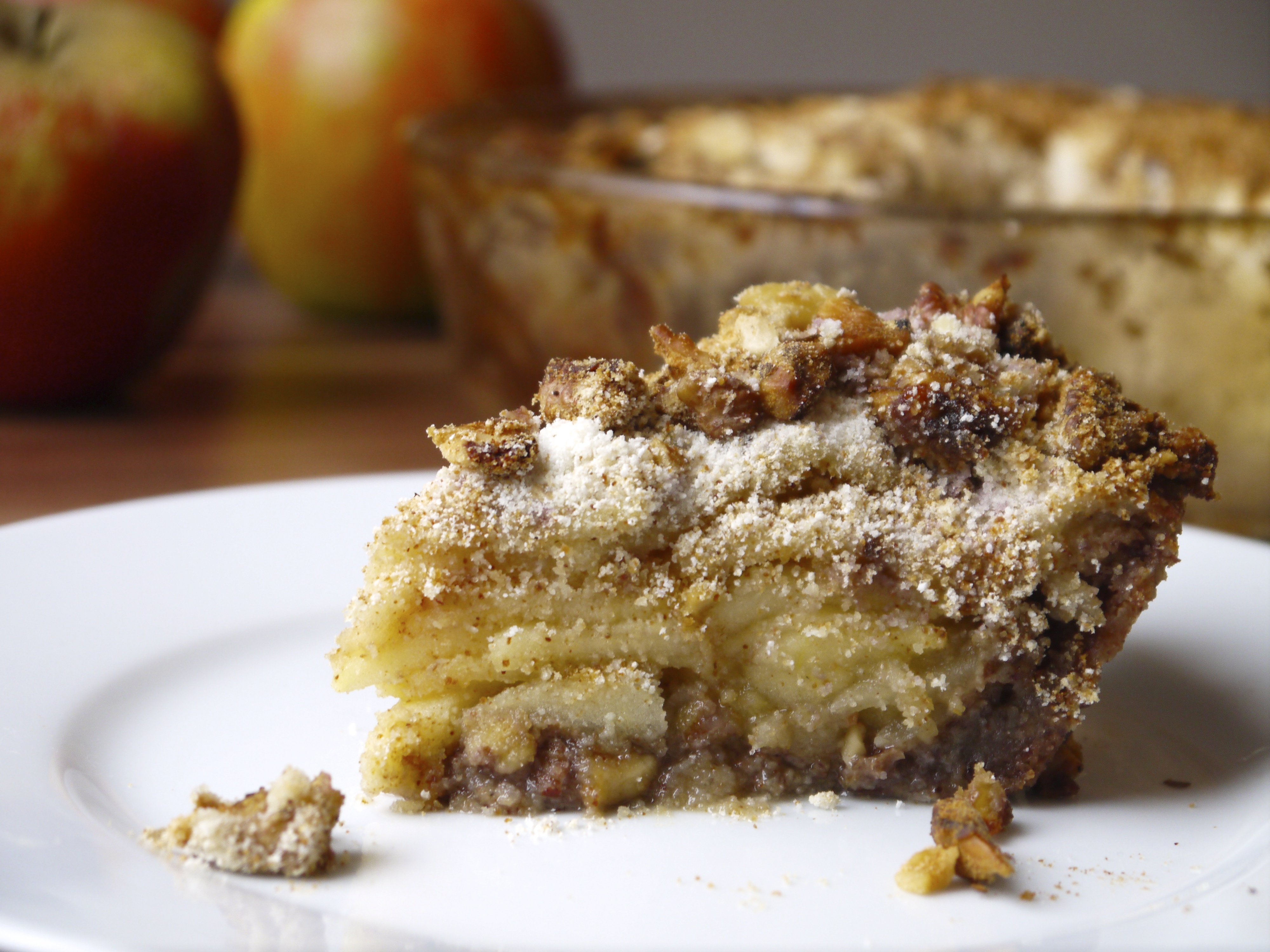 :::
Note: Jules' Fuel uses affiliate links in some blog posts. Every time you make a purchase using one of these links (which costs the same either way), it's a very, very small way to help me cover the cost of running this website. I appreciate your support!