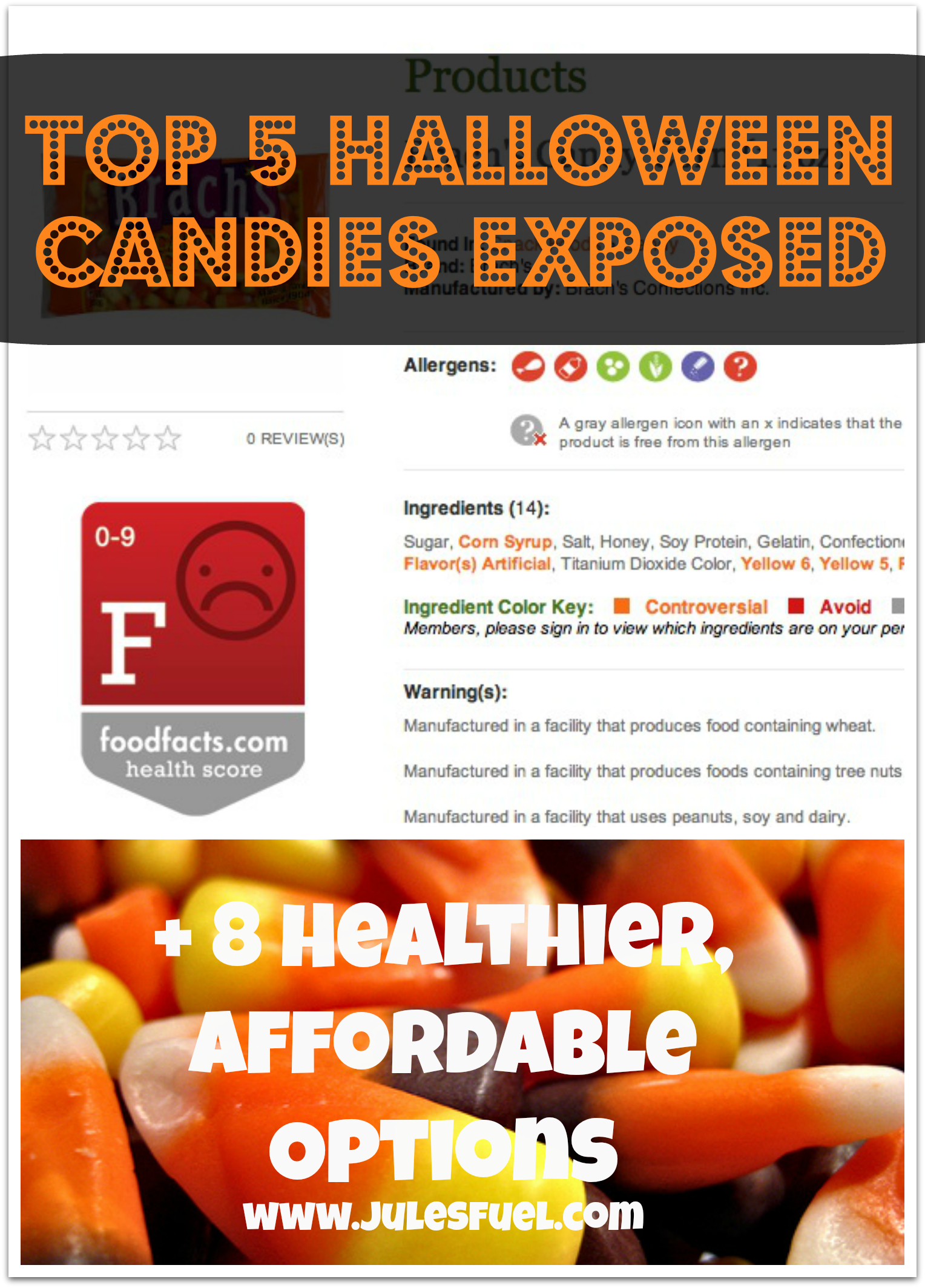 Halloween, a mere budding trend here in Germany, just isn't the same abroad!
While I've been dormant in the Halloween scene for quite some time, with a bun in the oven, I'm imagining all of the precious costumes we can dress our bean in…
…like Dwight from The Office. How hilarious is this?
That, and what fun it will be to attend annual trick-or-treating events, along with hilarious people watching.
The only negative part? The toxic "stuff" that my future child will gather on these spooktacular evenings.
While I (obviously) plan to teach our little he or she on what REAL food is and why it's so superior in taste and nutrients, I'm very aware that he/she will be exposed to these kinds of "foods" at some point – whether at school lunches (ugh), birthday parties, and parades.
But, the fact is, there are FAR more nutritious and cost-effective options to spoil children with on Halloween.
With 600 million tons of candy purchased on Halloween(!!), just think of the parents, doctors, and dentists that would thank us if we could change the trend of handing out these most popular candy brands:
1) Skittles: Yeah, they rank an "F" on FoodFacts.com because of 12 "controversial" ingredients, including 9 food dyes, GMOs, and 45 grams of sugar in ONE pack.
45 grams of sugar / 4 = Approx. 11.25 teaspoons of sugar in one pack. That's more than the 10 teaspoons that a person needs in ONE day in ONE pack.
2) Starbursts: These will burst your stars with a big fat "F' again. More of the same with food dyes, GMOs, preservatives, and 34 grams of sugar in one pack.
34 grams of sugar / 4 = 8.5 teaspoons of sugar per pack. Wowzers.
3) Reese's Peanut Butter Cups: And we're getting better with a… "D-"! These have more of the same, including 19 grams of sugar in 5 pieces, and "TBHQ," a chemical preservative in the form of butane. "Consuming high doses (between 1 and 4 grams) of TBHQ can cause nausea, delirium, collapse, tinnitus (ringing in the ears), and vomiting" (Botes, 2011).
4) KitKats: Don't "break me off a piece of that" with 22 grams of sugar per serving, GMOs, preservatives, and 0 nutrients.
5) Twix: Along with the same 'ole story as the others, 3 pieces of Twix minis have 14 grams of sugar.
So. After that depressing news, let's talk about some better solutions.
8 Better Halloween Candy Options
1. Local Apples
Apples are in season, which means they are abundant and cheap in price!
Depending on location, one bushel (200 apples) at your local farm or farmers market costs somewhere around $30 (or less, if it's a good year for the crop). That's $.15/apple at $30 per bushel. Pretty cheap for loads of nutrients and 200 apples to hand out!
Kyle and I bought these lollipops last fall to give to our friends' children when they visited. We may or may not have finished the bag ourselves (hah!).
A 5-lb. bag with 325 pops at $25.68 = $.08/lollipop. This may be enough to hand out for the whole night!
Nutrient Profile: 
Organic; allergen-free; gluten-free; GMO-free; egg-free; soy-free; nut-free; casein-free; dairy-free; kosher
All-natural: fruit extracts; red cabbage and purple carrots for color; no artificial dyes or flavors
Flavors: Sour Apple Tart, Pomegranate Pucker, Mango Tango, TooBerry Blueberry, Googly Grape, Strawberry Smash, Very Very Cherry, Wet-Face Watermelon
1 sucker has 5.67 grams of sugar
 3. Roasted Pumpkin Seeds
There are two options with these:
A) DIY
One smaller pie pumpkin will yield about 1 cup of pumpkin seeds. Say you buy 10 pumpkins at $2/pumpkin, that will yield 10 cups for about $20. Once you roast them with a recipe like  this, you can portion out 1 tbsp of seeds into mini bags like these at $4.85 for 500 bags.
With 16 tbsp in 1 cup, 10 cups of seeds will yield 160 tbsp and servings!! Plus, you can use the pumpkins for carving or baking pumpkin goodies now or later (freeze the flesh!). For 160 servings, $20 for pumpkins + $4.85 for these bags + $5 miscellanous ingredients = Approx. $30.
That's $.18/serving + fun with your children + pumpkins for carving and baking + a nourishing snack for kids. Win, win, win, win.
B) Buy 
Buy two 2-lb. bags of pumpkin seeds like these for $15.99/bag, which will cost about $37 with the mini bags.
4. Fruit Leathers (100% Natural) 
Every kid loves a fruit leather! Stretch Island Fruit Leathers are a super clean brand made with:
½ serving of fruit per leather
100% natural
No artificial additives
Real-fruit purée
No added sugar – all sugar comes naturally from fruit
Non-GMO Project Verified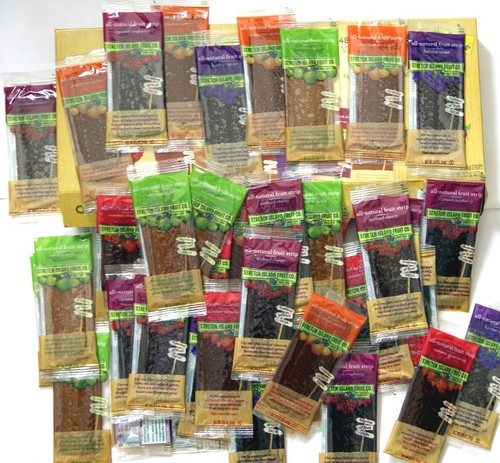 While one bar has 8 grams of sugar, it's a far cry from the toxic "F's" and "D's" we saw in the 5 brands earlier.
If you purchase 2 boxes at $19.99/box and 48 leathers/box, that yields 96 fruit leathers for about $40.00. That's $.41/bar loaded with real fruit pureé.
5. Mini-Snacks Raisin Boxes (100% Natural) 
With no preservatives or additives, these are basically cheap, natural fruit snacks! One pack of these has 12 boxes for $2.89. If you buy 12 packs to yield 144 servings, that's $34.68 and $.24/box.
6. Stickers
Sure, it's not food, but what kid doesn't love stickers?
You can buy 1,000 stickers here for a mere $11.53. Say you give each kid 3 stickers a piece, that will satisfy 333 trick-or-treaters! There are loads of sticker options out there, too, like these 100 zoo animal stickers for $3.69.
7. Glow-in-the-Dark Halloween Tattoos
These are another non-food item, but extra sweet because they glow in the dark. This pack includes 72 tattoos for $4.96, and $.06/tattoo.
8. Organic Juice Boxes 
Find some at your local store, or check these out for a quick and hydrating drink with no sugar added. At $23.54 for a pack of 44, two packs will yield 88 for $47.08, or $.53 per juice box.
Just imagine if we could start a "real food treat trend" rather than the 600 million tons of candy purchased on Halloween. Doctors, dentists, parents, and kids (indirectly) would thank us!! ☺
:::
References
Botes, Shona. (2011). TBHQ – Why this preservative should be avoided. Natural News. http://www.naturalnews.com/031318_TBHQ_food_preservatives.html.