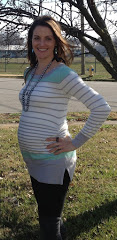 Taking online classes makes it tough to get to know fellow classmates, so recently, I decided to make my "virtual classroom" experience more real by reaching out to one of my classmates, Tarah. I discovered her through a link posted on Hawthorn University's blog, and was thoroughly impressed with her website, What I Gather! 
Residing in Louisville, Kentucky with her husband (and soon-to-be baby), Tarah blogs mostly about how simple and delicious healthy living can be. Coming from a background of eating Hot Pockets and processed foods, she has completely transformed her nutritional and fitness lifestyle and perspective: 
"We really are in control of our health and our bodies, and by only putting into our bodies whole, nutritious foods, I know we can live longer, happier lives. It seems too simple, really, but it makes total sense. Eat healthy, be healthy."
In bouncing off ideas and concepts with Tarah as we move through our classes, we decided we would take it a step further with sharing guest posts! 
Perfect for a spring lunch or dinner, Tarah has created a simple but flavorful tuna recipe, turning it from "bland to grand" with a touch of creamy and sweet.  
Take it away, Tarah!
:::

Despite my current love for simple meals that involve little to no thought on my part (thanks to pregnancy), the urge to create did wash over me this week and I was certainly glad it did!
Kevin's first comment after taking a bite was, "Are you putting this on the blog?," and I told him that was specifically why I made it, to which he replied, "Good. This is awesome!"
I've eaten so many tuna sandwiches in my day that I don't eat it often anymore, but I had some in the pantry and wanted to come up with a new way to use it. These tuna cakes were simple but full of flavor, thanks to the red peppers and dijon mustard. They paired perfectly with the salad of baby spring mix, mandarin oranges, red onions, avocado and a citrus dressing.
Aren't these mandarin oranges so cute!
Spring is just around the corner and this would make a perfect spring meal!
Tuna Cakes with Mandarin Orange Salad
Servings: 4
Time: 30 minutes

Ingredients
>For the salad:
4 cups baby spring mix
5 mandarin oranges, peeled and segmented
1/4 cup thinly sliced red onion
1 avocado, sliced
>For the dressing:
Juice of 1 mandarin orange
3 tbsp olive oil
1 tbsp White Balsamic vinegar
1 tsp thyme
Salt and pepper to taste
>For the tuna cakes:
1 tbsp olive oil
1 red bell pepper, diced
2 5oz cans of tuna
2 eggs
2 tbsp coconut flour
1/2 tsp cayenne pepper
1 tbsp dijon mustard
Salt and pepper to taste
1/4 cup coconut oil
Instructions
>For the salad:
In a large bowl, combine spring mix, mandarin orange segments, red onion and avocado.
>For the dressing:
In a small bowl, combine mandarin orange juice, olive oil, vinegar, thyme, salt and pepper. Using a fork, stir all ingredients until mixed well.
>For the tuna cakes:
Heat olive oil in a skillet over medium heat.
Once oil is hot, add diced bell pepper and cook until softened, about 5 minutes.
Place bell pepper in a large bowl and let it cool for 5 minutes. Add tuna, eggs, coconut flour, cayenne pepper, mustard, salt and pepper, and use your hands to mix until all ingredients are thoroughly combined.
Form tuna mixture into 8 small patties.
Heat coconut oil in a separate skillet over medium heat. Once oil is hot enough to sizzle, but not smoking, add tuna cakes to skillet. Cook for three minutes, flip and cook for three minutes on the other side. Tuna cakes should be golden brown and crispy on the outside.
Toss dressing with salad and divide between four plates. Place two tuna cakes on each plate and serve!
:::
Thank you, Tarah! For more of Tarah's recipes, head over to her blog here.