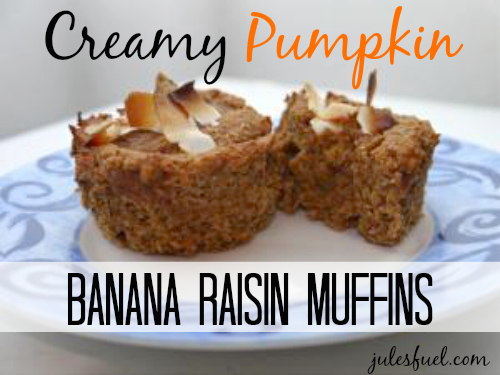 Despite attempts to avoid cooking at all costs in the past, I have succumbed to this new passion of mine…fervently!!
There's something addicting to whipping up a new concoction in the kitchen with my own hands, and making it into brilliant deliciousness (with just the occasional failure, right!?).
This was one of my first recipes I tweaked and mastered over the course of the past year, inspired as a pre- or post-workout snack in between practices for my husband.
If you're in a rush, it's perfect to grab with a cup of coffee to go in the morning, too!
Here is the magic recipe…
Creamy Pumpkin Banana Raisin Muffins
*Gluten-free, grain-free
1 1/2 c pumpkin, mashed (from can or bake a pumpkin & scoop out flesh)
2 bananas, mashed
3/4 c raisins
2 eggs
1/2 c almond butter
1/4 c butter (or olive oil or coconut oil)
1/4 c organic maple syrup (or honey or agave)
3/4 c almond flour
1/3 c coconut flour
1 tsp baking soda
1/4 tsp salt
2 tbsp pumpkin spice (or about 1-2 tbsp cinnamon, 1 tsp nutmeg, 1 tsp allspice, 1/2 tsp ginger)
1/2 tbsp vanilla
Instructions
*Set oven @ 350 degrees
*Blend all wet ingredients: pumpkin, bananas, almond butter, butter, maple syrup, eggs
*Add dry ingredients and blend until smooth
*Stir in raisins at the end
*Spoon in muffin tin (optional: add coconut flakes on top)
*Bake for 25ish minutes, or until golden
Enjoy, and let me know what you think!!? And if you have any other recipes that you want healthified, please write in the comments below!